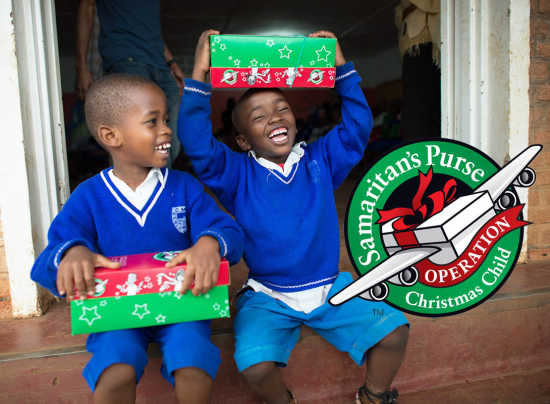 Past:

Operation Christmas Child - National Collection Week
Cape Bible Chapel
Operation Christmas Child is a project of Samaritan's Purse (an international relief organization) that collects shoeboxes filled with small toys, hygiene items, and school supplies for children around the world. We seek to demonstrate God's love in a tangible way through each shoebox gift. Since 1993, Operation Christmas Child has delivered gift-filled shoeboxes to over 146 million children in more than 160 countries and territories. Get more information and ideas for items to include in your shoebox at https://www.samaritanspurse.org/.
2017 National Collection Week is November 13-20. Drop-off locations are available throughout Southeast Missouri. Use the "Drop Off Locator" at https://www.samaritanspurse.org/ to find hours and locations.
We are praying for 12 million boxes this year to reach 12 million children with the Good News of the Gospel. Have you packed a shoebox yet?
Past Dates & Times
Monday, Nov 13, 2017 (time TBA)
Tuesday, Nov 14, 2017, 4:00 pm - 6:00 pm
Wednesday, Nov 15, 2017, 10:00 am - Noon
Thursday, Nov 16, 2017, 4:00 pm - 6:00 pm
Friday, Nov 17, 2017, 4:00 pm - 6:00 pm
Saturday, Nov 18, 2017, Noon - 3:00 pm
Sunday, Nov 19, 2017, Noon - 3:00 pm
Monday, Nov 20, 2017, 7:30 am - 9:30 am

Map
Cape Bible Chapel
2911 Kage Road Cape Girardeau, MO