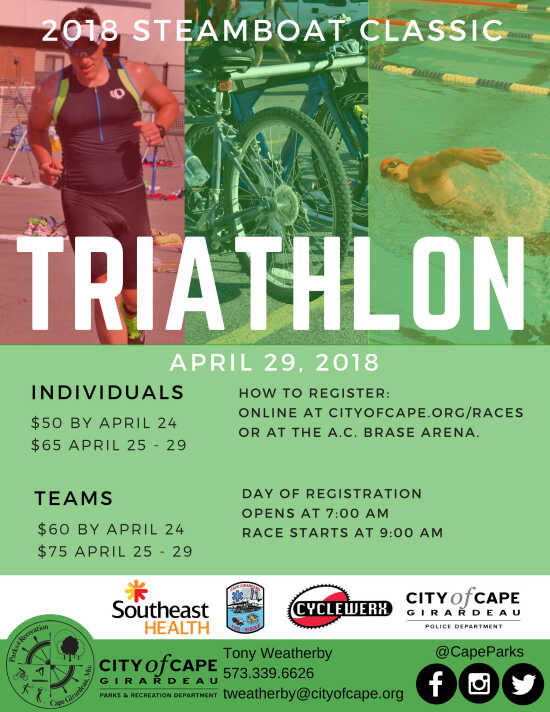 Past:

Steamboat Classic Triathlon
Central Municipal Pool
Steamboat Classic Triathlon
This sprint triathlon consists of a 450 meter swim at Central Municipal Pool, and a 15.5 mile bike and 5 mile run throughout Cape Girardeau. Registration will begin at 7:00 a.m. at Central Pool. This is a USAT sanctioned event. Participants that are non-USAT members are required to pay a $15.00 USAT fee. For more information about this race contact Tony at 573.339.6340 or tweatherby@cityofcape.org.
2018 Steamboat Registration Form
Date: Sunday, April 29, 2018
Race Time: 9 a.m.
Fee: $50.00 Individual / $60.00 Team
Late Registration (April 25-29) $65.00 Individual / $75.00 Team
Register: At the A.C. Brase Arena, Osage Centre or online at www.cityofcape.org/races
Past Dates & Times
Sunday, Apr 29, 2018, 7:00 am - 2:00 pm

Map
Central Municipal Pool
1920 Whitener St Cape Girardeau, MO 63701