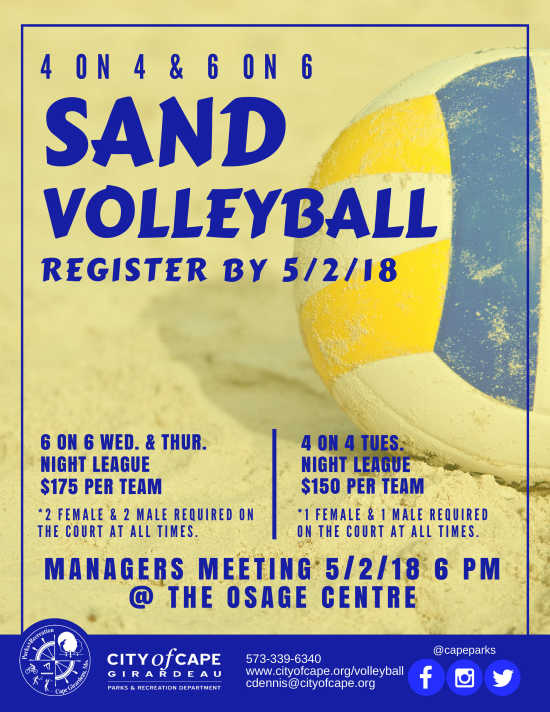 Past:

Coed Adult Sand Volleyball League
Arena Park Sand Volleyball Courts
Spend your summer on the sand courts!
A 4-on-4 league and 6-on-6 league will be offered.
The 4-on-4 league consists of one division and will be played on Tuesday evenings. The 6-on-6 league consists of a competitive division and an intermediate division, and will be played on Wednesday and Thursday evenings.
There will be a manager's meeting on May 2 at 6 p.m. at the Osage Centre. For more information, contact Cassie Dennis at cdennis@cityofcape.org.
Register by 5/2/18 at the A.C. Brase Arena, Osage Centre or online at www.cityofcape.org/volleyball.
Past Dates & Times
Wednesday, Mar 14, 2018 (all day)
Thursday, Mar 15, 2018 (all day)
Friday, Mar 16, 2018 (all day)
Saturday, Mar 17, 2018 (all day)
Sunday, Mar 18, 2018 (all day)
Monday, Mar 19, 2018 (all day)
Tuesday, Mar 20, 2018 (all day)
Wednesday, Mar 21, 2018 (all day)
Thursday, Mar 22, 2018 (all day)
Friday, Mar 23, 2018 (all day)
Saturday, Mar 24, 2018 (all day)
Sunday, Mar 25, 2018 (all day)
Monday, Mar 26, 2018 (all day)
Tuesday, Mar 27, 2018 (all day)
Wednesday, Mar 28, 2018 (all day)
Thursday, Mar 29, 2018 (all day)
Friday, Mar 30, 2018 (all day)
Saturday, Mar 31, 2018 (all day)
Sunday, Apr 1, 2018 (all day)
Monday, Apr 2, 2018 (all day)
Tuesday, Apr 3, 2018 (all day)
Wednesday, Apr 4, 2018 (all day)
Thursday, Apr 5, 2018 (all day)
Friday, Apr 6, 2018 (all day)
Saturday, Apr 7, 2018 (all day)
Sunday, Apr 8, 2018 (all day)
Monday, Apr 9, 2018 (all day)
Tuesday, Apr 10, 2018 (all day)
Wednesday, Apr 11, 2018 (all day)
Thursday, Apr 12, 2018 (all day)
Friday, Apr 13, 2018 (all day)
Saturday, Apr 14, 2018 (all day)
Sunday, Apr 15, 2018 (all day)
Monday, Apr 16, 2018 (all day)
Tuesday, Apr 17, 2018 (all day)
Wednesday, Apr 18, 2018 (all day)
Thursday, Apr 19, 2018 (all day)
Friday, Apr 20, 2018 (all day)
Saturday, Apr 21, 2018 (all day)
Sunday, Apr 22, 2018 (all day)
Monday, Apr 23, 2018 (all day)
Tuesday, Apr 24, 2018 (all day)
Wednesday, Apr 25, 2018 (all day)
Thursday, Apr 26, 2018 (all day)
Friday, Apr 27, 2018 (all day)
Saturday, Apr 28, 2018 (all day)
Sunday, Apr 29, 2018 (all day)
Monday, Apr 30, 2018 (all day)
Tuesday, May 1, 2018 (all day)
Wednesday, May 2, 2018 (all day)

Map
Arena Park Sand Volleyball Courts
410 Kiwanis Dr. Cape Girardeau, MO 63701