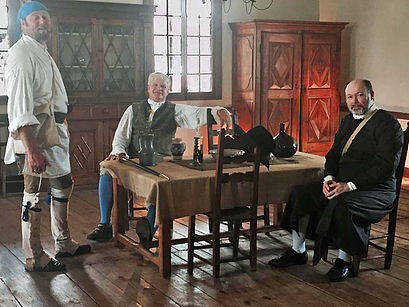 Past:

New France: The Other Colonial America – Expansion Opening
New France: The Other Colonial America
New France: The Other Colonial America (NF: TOCA) is a nonprofit organization dedicated to preserving and sharing 18th century French colonial history in the upper Mississippi River valley and the story of French Creole culture in this region.
The Centre for French Colonial Life, will welcome and orient visitors to the campus of NF: TOCA in Ste. Genevieve, a unique historic community located about an hour's drive south of St. Louis. The campus consists of the Centre and five historic buildings dating from the late 18th century to the early 19th century. The structures are owned by the National Society of Colonial Dames of America in the State of Missouri (NSCDA/MO) and are operated and interpreted by the professional staff of NF: TOCA under an agreement between the two organizations.
The NF: TOCA campus, including the new Centre for French Colonial Life, will open to the public on Friday, April 27; Saturday April, 28; and Sunday, April 29.
Over the course of the weekend there will be special activities and living history demonstrations at the Centre.
After that, regular hours of operation will be Monday through Saturday from 10 a.m. until 5 p.m. and Noon to 5 p.m. on Sundays.
Admission: Adults-$8.00, Seniors-$6.00, Adult Students (with college or university ID)-$6.00, Children (Ages 5-18)-$4.00, Children (Ages 4 and under)-FREE, Active Duty Military with ID-FREE.
For more information, please contact the NF: TOCA offices at 573-883-3105.
Past Dates & Times
Friday, Apr 27, 2018, 10:00 am - 4:00 pm
Saturday, Apr 28, 2018, 9:30 am - 5:00 pm
Sunday, Apr 29, 2018, Noon - 4:00 pm

Map
New France: The Other Colonial America
125 S. Main St. Ste. Genevive, MO