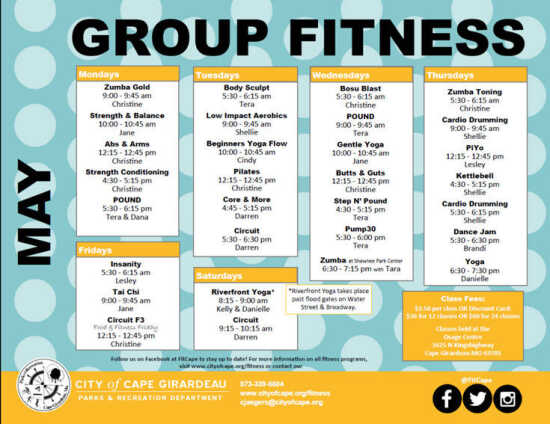 Past:

Senior Fitness - Low Impact Classes: Monday-Wednesday
Osage Centre
Regular Physical Activity is one of the most important things you can do for your health!
The City of Cape Girardeau Parks & Recreation has tons of great options for you! We have over 15 different Group Fitness classes available each week held at the Osage Centre. We have a wide variety of classes for all levels and ages!
Check out the full schedule here: www.cityofcape.org/fitness
Low Impact Classes are a great way to start your journey! We have the following classes each week at the Osage Centre:
Monday - 10 a.m.: Strength & Balance
Tuesday - 10 a.m.: Beginners Yoga
Wednesday - 10 a.m.: Gentle Yoga
NOTE** There will be no classes on Monday, May 28th in observance of Memorial Day.
Riverfront Yoga on Saturdays (yoga down by the Floodgates along the river) 8 a.m.
Past Dates & Times
Wednesday, May 2, 2018, 10:00 am - 11:00 am
Monday, May 7, 2018, 10:00 am - 11:00 am
Tuesday, May 8, 2018, 10:00 am - 11:00 am
Wednesday, May 9, 2018, 10:00 am - 11:00 am
Monday, May 14, 2018, 10:00 am - 11:00 am
Tuesday, May 15, 2018, 10:00 am - 11:00 am
Wednesday, May 16, 2018, 10:00 am - 11:00 am
Monday, May 21, 2018, 10:00 am - 11:00 am
Tuesday, May 22, 2018, 10:00 am - 11:00 am
Wednesday, May 23, 2018, 10:00 am - 11:00 am
Tuesday, May 29, 2018, 10:00 am - 11:00 am
Wednesday, May 30, 2018, 10:00 am - 11:00 am

Map
Osage Centre
1625 N. Kingshighway St., Cape Girardeau, MO