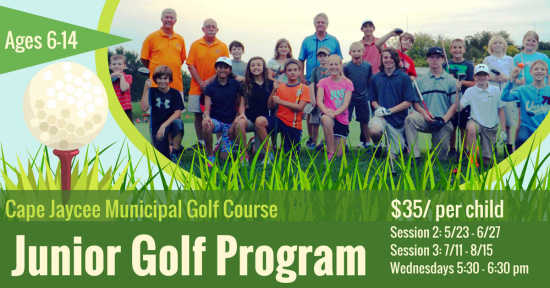 Junior Golf Program at the Cape Jaycee Municipal Golf Course
Wednesday, Aug 15, 2018, 5:30 pm - 6:30 pm
Cape Jaycee Municipal Golf Course
The Cape Girardeau Parks & Recreation Department is now offering Junior Golf!
In this program, kids will learn how to play the game of golf. Instructions will cover how to hold a golf club, what each club is intended for, how to swing the golf club and golf course etiquette. This class will feature two sessions...pick the one that works best for you!
Wednesdays from 5:30 - 6:30 p.m. at the Jaycee Municipal Golf Course
Session 2: May 23 - June 27 | Register by May 16
Session 3: July 11 - August 15 | Register by July 4
Register online at www.cityofcape.org/golf
Map
Cape Jaycee Municipal Golf Course
3280 Perryville Rd., Cape Girardeau, Mo.