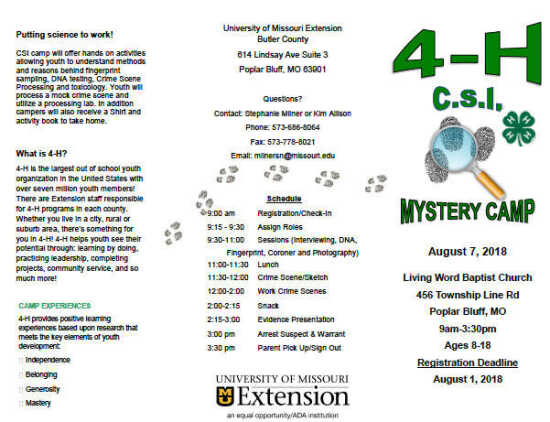 Past:

4-H C.S.I. Mystery Camp / Register by August 1st
Living Word Baptist Church
Camp will be held on August 7th from 9 a.m. - 3:30 p.m.
CSI camp will offer hands on activities allowing youth to understand methods and reasons behind fingerprint sampling, DNA testing, Crime Scene Processing and toxicology. Youth will process a mock crime scene and utilize a processing lab. In addition campers will also receive a Shirt and activity book to take home.
This camp is for ages 8-18.
Cost: 4-H member: $25 / Non member: $45
There will be a teen counselor or adult volunteer for every eight campers. There is no cost for teens and adults attending as TRAINED volunteer chaperones at the 1:8 ratio. After the ratio is met, teens and adults must pay full price. Untrained volunteers will be full price.
Please contact your local 4-H Extension Office if you are interested in volunteering.
Questions and registration - Contact: Stephanie Milner or Kim Allison
Phone: 573-686-8064
Fax: 573-778-8021
Email: milnersn@missouri.edu
Past Dates & Times
Wednesday, Jul 4, 2018 (time TBA)
Thursday, Jul 5, 2018 (time TBA)
Friday, Jul 6, 2018 (time TBA)
Saturday, Jul 7, 2018 (time TBA)
Sunday, Jul 8, 2018 (time TBA)
Monday, Jul 9, 2018 (time TBA)
Tuesday, Jul 10, 2018 (time TBA)
Wednesday, Jul 11, 2018 (time TBA)
Thursday, Jul 12, 2018 (time TBA)
Friday, Jul 13, 2018 (time TBA)
Saturday, Jul 14, 2018 (time TBA)
Sunday, Jul 15, 2018 (time TBA)
Monday, Jul 16, 2018 (time TBA)
Tuesday, Jul 17, 2018 (time TBA)
Wednesday, Jul 18, 2018 (time TBA)
Thursday, Jul 19, 2018 (time TBA)
Friday, Jul 20, 2018 (time TBA)
Saturday, Jul 21, 2018 (time TBA)
Sunday, Jul 22, 2018 (time TBA)
Monday, Jul 23, 2018 (time TBA)
Tuesday, Jul 24, 2018 (time TBA)
Wednesday, Jul 25, 2018 (time TBA)
Thursday, Jul 26, 2018 (time TBA)
Friday, Jul 27, 2018 (time TBA)
Saturday, Jul 28, 2018 (time TBA)
Sunday, Jul 29, 2018 (time TBA)
Monday, Jul 30, 2018 (time TBA)
Tuesday, Jul 31, 2018 (time TBA)

Map
Living Word Baptist Church
456 Township Line Rd Poplar Bluff, MO