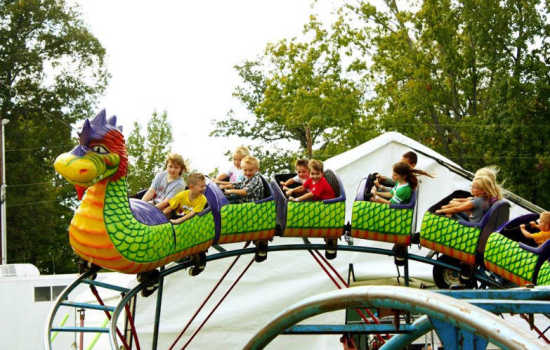 Past:

East Perry Community Fair "The Best Little Fair in the Land"
Altenburg Fairgrounds
The "Best Little Fair in the Land" will open with a parade on Friday, September 20 at 1:30 p.m. followed by opening ceremonies and continue through that evening and the entire day on Saturday, September 21. The Backstreet Cruisers will play at 6:30 p.m. Friday with the 4x4 truck pull at 7 p.m. On Saturday, the emphasis will be on livestock judging including one of the ten largest beef cattle shows in Missouri at 9 a.m. in the People's Bank Show Barn and a large draft horse and mule show including hitch classes beginning at 10 a.m. At 4:30 p.m., the even-popular "world championship" mule jumping will take place followed by a lawn and garden tractor pull at 7 p.m. Music on Saturday will include Generation beginning at 1 p.m. At 7:30 p.m., the White Lightning Band will take the stage.
The fair, which is held in Altenburg, continues to promote itself as a traditional agricultural fair that, in contrast to other high priced presentations, still has free parking, free admission, and a variety of free entertainment and spectator events. For additional information visit the fairís new website www.eastperryfair.com or its Facebook page. If you have questions prior to or during the fair, please call (573) 824-5322.
Past Dates & Times
Friday, September 21, 2018, 1:30 pm
Saturday, September 22, 2018 (all day)
Friday, September 20, 2019, 1:30 pm
Saturday, September 21, 2019 (all day)

Map
Altenburg Fairgrounds
200 Church St, Altenburg, MO