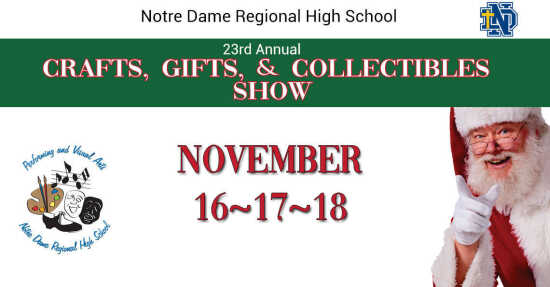 Past:

Notre Dame's 23rd Annual Crafts, Gifts, and Collectibles
Notre Dame Regional High School
The Crafts, Gifts, and Collectibles Show is held at Notre Dame High School to benefit the Performing and Visual Arts Departments.
Friday, November 16, 5 p.m. - 9 p.m. Admission $2.00
Saturday, November 17, 9 a.m. - 6 p.m. Admission $2.00
Sunday, November 18, 9 a.m. - 4 p.m. Admission FREE
You will find student and parent volunteers working the event to support the Arts. There are over 200 Vendors located in the Main Gym and King Hall. There were over 5000 people visiting the show just last year. There is a refreshment stand selling yummy food, and many baked goods.
On Sunday there is a visit from Santa for your children. Parents can take pictures, and Face painting is free from Notre Dame Art Students,
Any questions? Contact Deana Pecord at deanapecord@notredamecape.org or 618-9672953
Past Dates & Times
Friday, November 16, 2018, 5:00 pm - 9:00 pm
Saturday, November 17, 2018, 9:00 am - 6:00 pm
Sunday, November 18, 2018, 9:00 am - 4:00 pm

Map
Notre Dame Regional High School
265 Notre Dame Drive, Cape Girardeau, MO 63701