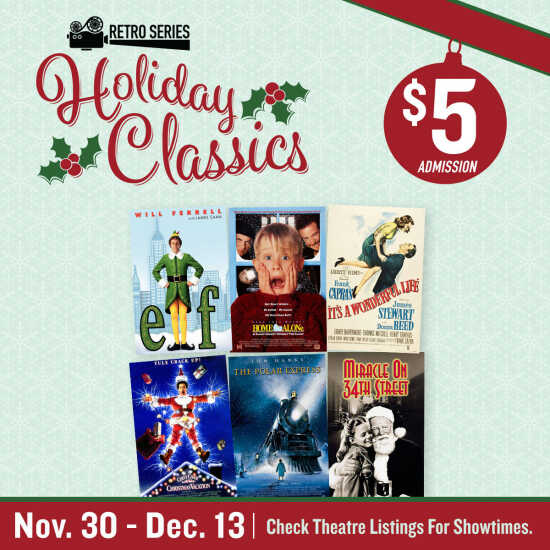 Past:

Holiday Classics at Marcus Theatres - $5 Movies!
Marcus Cape West Cine
Escape the rush of the season with the Holiday Classics Series at Marcus Cape Girardeau Cinema! Whether seeing them for the first time or the 100th time, movies like "Elf" and "The Polar Express" are even more fun on the big screen. Best of all, admission is just $5 per person.
November 30-December 6: "Elf," "Home Alone," "It's a Wonderful Life"
December 7-13: "National Lampoon's Christmas Vacation," "The Polar Express," "Miracle on 34th Street"
Visit MarcusTheatres.com for tickets, showtimes and a complete list participating locations: http://bit.ly/MarcusHolidayClassics
Past Dates & Times
Friday, November 30, 2018, 10:00 am - 10:00 pm
Saturday, December 1, 2018, 10:00 am - 10:00 pm
Sunday, December 2, 2018, 10:00 am - 10:00 pm
Monday, December 3, 2018, 10:00 am - 10:00 pm
Tuesday, December 4, 2018, 10:00 am - 10:00 pm
Wednesday, December 5, 2018, 10:00 am - 10:00 pm
Thursday, December 6, 2018, 10:00 am - 10:00 pm
Friday, December 7, 2018, 10:00 am - 10:00 pm
Saturday, December 8, 2018, 10:00 am - 10:00 pm
Sunday, December 9, 2018, 10:00 am - 10:00 pm
Monday, December 10, 2018, 10:00 am - 10:00 pm
Tuesday, December 11, 2018, 10:00 am - 10:00 pm
Wednesday, December 12, 2018, 10:00 am - 10:00 pm
Thursday, December 13, 2018, 10:00 am - 10:00 pm

Map
Marcus Cape West Cine
247 Siemers Dr, Cape Girardeau, MO 63701