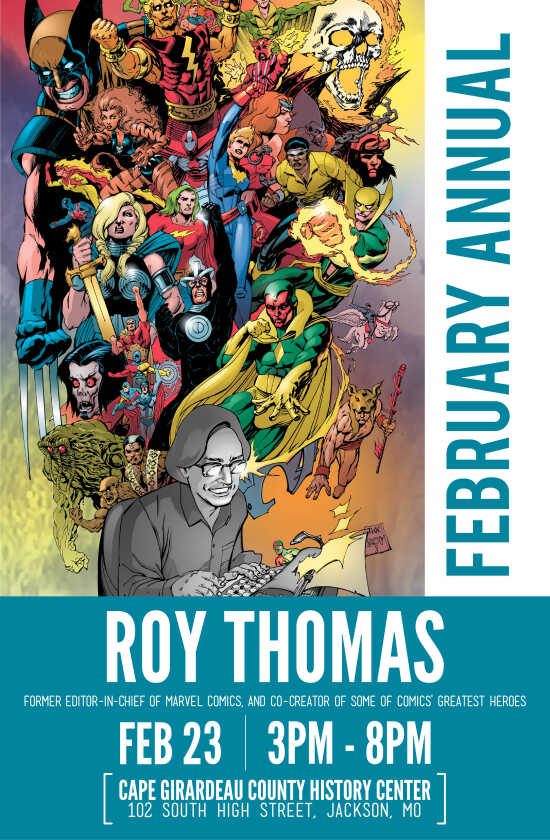 Past:

February Annual: A Celebration of Roy Thomas
All of Uptown Jackson
Join us in Uptown Jackson for the 4th February Annual: ďA Hometown Celebration of Roy Thomas.Ē Meet the former Editor-in-Chief of Marvel Comics, and Co-creator of some of Comicís greatest characters like Wolverine, Conan the Barbarian, and many more. Thomas will give a presentation at 1:00 p.m. at the Montgomery Conf. Center, west Main Jackson.
Reservations are required, free tickets at UJRO.org.
From 3:00-8:00 p.m. the public is invited and all of Uptown Jackson will be a buzz with a reception for Roy Thomas at the History Center, 102 S. High, a biographical exhibit Opening, special window displays, merchant specials, a Comicbook Pop-Up Market, and so much more.
For more information call: 573-979-5170, or visit the Cape Girardeau County History Center or Uptown Jackson Revitalization Organization on Facebook.
Past Dates & Times
Saturday, February 23, 2019, 1:00 pm - 8:00 pm

Map
All of Uptown Jackson
102 S. High Street, Jackson, MO