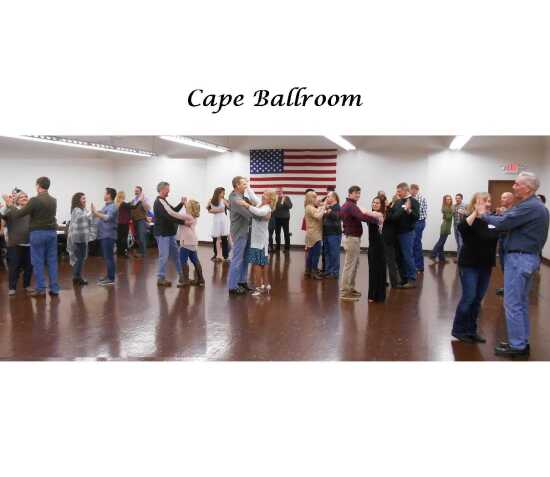 Past:

Social Dance - Swing, Cha Cha, Nightclub, & more
Cape Ballroom
Social Dance - with Swing, Cha Cha, Nightclub, Salsa, Bachata, Tango, Rumba, Waltz & more.
This Friday March 1st, teachers available to help you learn any of the dances!
Cape Ballroom has a weekly Friday Night Dance from 7:30 to 10:30 p.m.
Ice water available. Admission: $5 per person at the door.
THIS WEEK ONLY, LOCATION CHANGE TO:
The Dance Center, 2117 William, behind Rhodes Gas, beside Hardees, in Cape.
During the week, the instructors in this beautiful studio teach Jazz, Tap, Ballet, and more.
https://www.thedancecentermo.com/ 573-517-7727 Great GIFT for the kids or grandkids.
See you Next Week at our normal location, American Legion Hall, 2731 Thomas, in Cape.
Past Dates & Times
Friday, March 1, 2019, 7:30 pm - 10:30 pm

Map
Cape Ballroom
2117 William, Cape Girardeau, MO