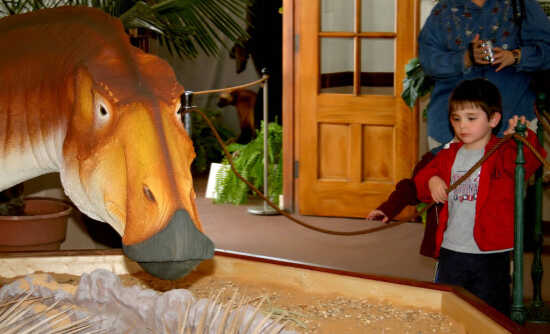 Bollinger County Museum of Natural History Open Hours
Saturday, Apr 28, 2018, Noon - 4:30 pm
Bollinger County Museum of Natural History
See the official Missouri dinosaur story and life size model of Missouri dinosaur, Hypsibema missouriense, Will Mayfield College history, Native American artifacts, local Civil War collection, fossils from Missouri and the world, explore and discover center, crystal radios, gift shop, lab, and more.
Regular hours of operation are: Noon to 4:30 p.m. every Thursday, Friday and Saturday, and noon to 4:30 p.m. the first Sunday of each month.
Admission: Adults $5 each and 17 years and under $2 each.
Like us on Facebook, follow us on Twitter & Pinterest add us on Google+
In case of inclement weather please call ahead to verify museum is open. The museum closes for inclement weather or if Woodland School is closed due to road conditions.
Dates & Times
Saturday, Apr 28, 2018, Noon - 4:30 pm
Sunday, Apr 29, 2018, Noon - 4:30 pm
Thursday, May 3, 2018, Noon - 4:30 pm
Friday, May 4, 2018, Noon - 4:30 pm
Saturday, May 5, 2018, Noon - 4:30 pm
Sunday, May 6, 2018, Noon - 4:30 pm
Thursday, May 10, 2018, Noon - 4:30 pm
Friday, May 11, 2018, Noon - 4:30 pm
Saturday, May 12, 2018, Noon - 4:30 pm

Map
Bollinger County Museum of Natural History
207 Mayfield Dr., Marble Hill, MO