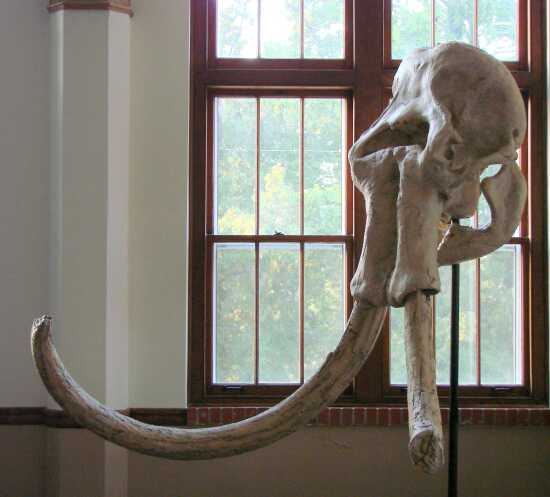 Past:

Ice Age Exhibit
Bollinger County Museum of Natural History
Ice Age Exhibit held over through December. Ice age exhibit closes December 31.
Journey back in time to the Ice Age. See a replica skull of Dee, largest mounted Columbian mammoth in North America and Dima, a mummified baby Wooly mammoth, a huge bison Latifrons skull replica with a horn span of 7feet, giant ground sloth skull replica, saber tooth tiger skull replica, and a dire wolf skull replica. Learn about human history through fossils in our exhibits of Ice Age Man in North America, North Sea Fossils, Ice Age Plants from Missouri, and The Ice Age and its Megafauna.
In case of inclement weather please call ahead to verify museum is open. The museum closes for inclement weather or if Woodland School is closed due to road conditions.
Admission: Adults $5 and 17 years and under $2
Past Dates & Times
Saturday, Jul 1, 2017, Noon - 4:30 pm
Sunday, Jul 2, 2017, Noon - 4:30 pm
Thursday, Jul 6, 2017, Noon - 4:30 pm
Friday, Jul 7, 2017, Noon - 4:30 pm
Saturday, Jul 8, 2017, Noon - 4:30 pm
Thursday, Jul 13, 2017, Noon - 4:30 pm
Friday, Jul 14, 2017, Noon - 4:30 pm
Saturday, Jul 15, 2017, Noon - 4:30 pm
Thursday, Jul 20, 2017, Noon - 4:30 pm
Friday, Jul 21, 2017, Noon - 4:30 pm
Saturday, Jul 22, 2017, Noon - 4:30 pm
Thursday, Jul 27, 2017, Noon - 4:30 pm
Friday, Jul 28, 2017, Noon - 4:30 pm
Saturday, Jul 29, 2017, Noon - 4:30 pm
Thursday, Aug 3, 2017, Noon - 4:30 pm
Friday, Aug 4, 2017, Noon - 4:30 pm
Saturday, Aug 5, 2017, Noon - 4:30 pm
Sunday, Aug 6, 2017, Noon - 4:30 pm
Thursday, Aug 10, 2017, Noon - 4:30 pm
Friday, Aug 11, 2017, Noon - 4:30 pm
Saturday, Aug 12, 2017, Noon - 4:30 pm
Thursday, Aug 17, 2017, Noon - 4:30 pm
Friday, Aug 18, 2017, Noon - 4:30 pm
Saturday, Aug 19, 2017, Noon - 4:30 pm
Thursday, Aug 24, 2017, Noon - 4:30 pm
Friday, Aug 25, 2017, Noon - 4:30 pm
Saturday, Aug 26, 2017, Noon - 4:30 pm
Thursday, Aug 31, 2017, Noon - 4:30 pm
Friday, Sep 1, 2017, Noon - 4:30 pm
Saturday, Sep 2, 2017, Noon - 4:30 pm
Sunday, Sep 3, 2017, Noon - 4:30 pm
Thursday, Sep 7, 2017, Noon - 4:30 pm
Friday, Sep 8, 2017, Noon - 4:30 pm
Saturday, Sep 9, 2017, Noon - 4:30 pm
Thursday, Sep 14, 2017, Noon - 4:30 pm
Friday, Sep 15, 2017, Noon - 4:30 pm
Saturday, Sep 16, 2017, Noon - 4:30 pm
Thursday, Sep 21, 2017, Noon - 4:30 pm
Friday, Sep 22, 2017, Noon - 4:30 pm
Saturday, Sep 23, 2017, Noon - 4:30 pm
Sunday, Sep 24, 2017, Noon - 4:30 pm
Thursday, Sep 28, 2017, Noon - 4:30 pm
Friday, Sep 29, 2017, Noon - 4:30 pm
Saturday, Sep 30, 2017, Noon - 4:30 pm
Sunday, Oct 1, 2017, Noon - 4:30 pm
Thursday, Oct 5, 2017, Noon - 4:30 pm
Friday, Oct 6, 2017, Noon - 4:30 pm
Saturday, Oct 7, 2017, Noon - 4:30 pm
Thursday, Oct 12, 2017, Noon - 4:30 pm
Friday, Oct 13, 2017, Noon - 4:30 pm
Saturday, Oct 14, 2017, Noon - 4:30 pm
Thursday, Oct 19, 2017, Noon - 4:30 pm
Friday, Oct 20, 2017, Noon - 4:30 pm
Saturday, Oct 21, 2017, Noon - 4:30 pm
Thursday, Oct 26, 2017, Noon - 4:30 pm
Friday, Oct 27, 2017, Noon - 4:30 pm
Saturday, Oct 28, 2017, Noon - 4:30 pm
Thursday, Nov 2, 2017, Noon - 4:30 pm
Friday, Nov 3, 2017, Noon - 4:30 pm
Saturday, Nov 4, 2017, Noon - 4:30 pm
Sunday, Nov 5, 2017, Noon - 4:30 pm
Thursday, Nov 9, 2017, Noon - 4:30 pm
Friday, Nov 10, 2017, Noon - 4:30 pm
Saturday, Nov 11, 2017, Noon - 4:30 pm
Thursday, Nov 16, 2017, Noon - 4:30 pm
Friday, Nov 17, 2017, Noon - 4:30 pm
Saturday, Nov 18, 2017, Noon - 4:30 pm
Friday, Nov 24, 2017, Noon - 4:30 pm
Saturday, Nov 25, 2017, Noon - 4:30 pm
Thursday, Nov 30, 2017, Noon - 4:30 pm
Friday, Dec 1, 2017, Noon - 4:30 pm
Saturday, Dec 2, 2017, Noon - 4:30 pm
Sunday, Dec 3, 2017, Noon - 4:30 pm
Thursday, Dec 7, 2017, Noon - 4:30 pm
Friday, Dec 8, 2017, Noon - 4:30 pm
Saturday, Dec 9, 2017, Noon - 4:30 pm
Thursday, Dec 14, 2017, Noon - 4:30 pm
Friday, Dec 15, 2017, Noon - 4:30 pm
Saturday, Dec 16, 2017, Noon - 4:30 pm
Thursday, Dec 21, 2017, Noon - 4:30 pm
Friday, Dec 22, 2017, Noon - 4:30 pm
Saturday, Dec 23, 2017, Noon - 4:30 pm
Thursday, Dec 28, 2017, Noon - 4:30 pm
Friday, Dec 29, 2017, Noon - 4:30 pm
Saturday, Dec 30, 2017, Noon - 4:30 pm

Map
Bollinger County Museum of Natural History
207 Mayfield Dr., Marble Hill, MO