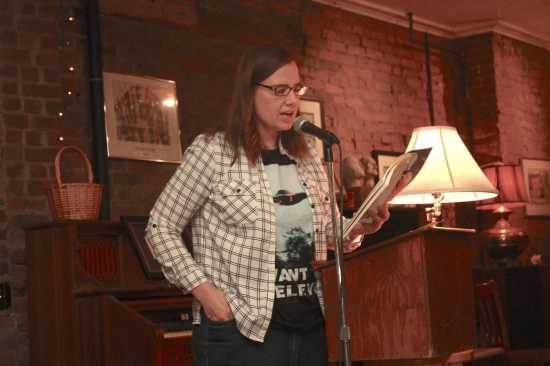 Past:

A Poetry Reading with Annie Christain
The Redhawk Room at Southeast Missouri State University University Center
Annie Christain, award-winning poet and Cape Central High School alumna, will perform a public reading on Monday, March 18, 7:00-8:00 pm, in the Redhawks Room, University Center. The event is free and open to the public and is funded by the Dorothy and Wedel Nilsen Visiting Writers Series and Southeast Missouri State University Press.
Annie Christain is an associate professor of composition and ESOL at SUNY Cobleskill and a former artist resident of the Shanghai Swatch Art Peace Hotel and the Arctic Circle Art and Science Expedition. Her poems have appeared in Seneca Review, Oxford Poetry, The Chariton Review, and The Lifted Brow, among others. She received the grand prize of the Hart Crane Memorial Poetry Contest, the Greg Grummer Poetry Award, the Oakland School of the Arts Enizagam Poetry Award, and the Neil Shepard Prize in Poetry. Tall As You Are Tall Between Them, her debut poetry book, was published in fall 2016 by C&R Press.
In a review for Lambda Literary, Julie Marie Wade calls Christain's book "polyvocal, enigmatic, primal, incantatory, whimsical, mythical, political, deeply pleasurable, and profoundly queer." A book signing will follow the reading, and books will be available for purchase at the event. For further information, contact Dr. Jenny Cropp at 573.651.2624 or jcropp@semo.edu.
Past Dates & Times
Monday, Mar 18, 2019, 7:00 pm - 8:30 pm

Map
The Redhawk Room at Southeast Missouri State University University Center
388 Henderson Ave Cape Girardeau, MO