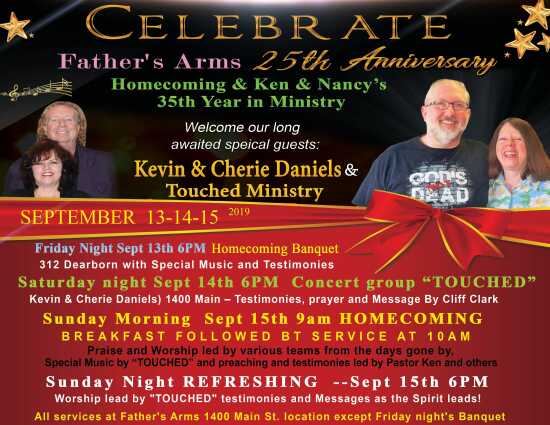 Past:

Father's Arms 25th Anniversary Homecoming Services w/ "Touched Band" Kevin & Cherie Daniels
Father's Arms Fellowship
Father's Arms Fellowship is inviting everyone who has been blessed by this ministry over the past 25 years to our 25th Anniversary Homecoming Services with Kevin & Cherie Daniels, Cliff Clark, Ardle & Dianne Page and many of those who have been a part and ministered through the years. A Quarter of a Century of lives changed in the Arms of Jesus!
Friday night banquet at 6pm is the only meeting held at the AOG Gymnasium at 312 Dearborn and will require purchasing a ticket.
Saturday night at 6pm, Sunday at 10am & 6pm all at the 1400 Main Street location.
Bring friends and everyone look up old friends of FAF and invite them to this eventful celebration!
Past Dates & Times
Friday, September 13, 2019, 6:00 pm
Saturday, September 14, 2019, 6:00 pm
Sunday, September 15, 2019, 10:00 am

Map
Father's Arms Fellowship
1400 Main Street, Scott City, MO