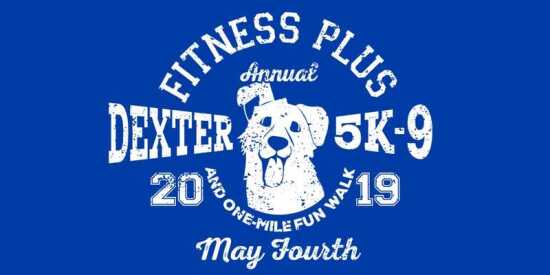 Past:

Dexter 5K-9 Hosted by Fitness Plus Dexter
Fitness Plus Dexter
Fitness Plus Dexter is excited to host the Dexter 5K-9 on Saturday, May 4. The race begins at 8 a.m. at Fitness Plus Dexter located at 1212 Saint Francis Drive in Dexter, Mo.
Pre-registered participants can pick up packets on Friday, May 3 from 10 a.m. to 3 p.m. or on race day during registration at Fitness Plus Dexter. Runners/walkers can also register the day of the event on May 4 from 7-7:45 a.m.
A dog is not required for participation, but welcome to the event.
It is $25 per runner/walker for those registered by April 17. A T-shirt is guaranteed if registration is received by April 17.
$30 per runner/walker after April 17.
Proceeds benefit Youth Fitness and Exercise is Medicine programs for those who canít afford them.
Make a monetary donation to the Dexter Dog Park on race day and be entered into a special door prize drawing!
Stop by Fitness Plus Dexter, call (573) 614-3636 or go to dexter5k92019.eventbrite.com to register for the Dexter 5K-9.
Past Dates & Times
Saturday, May 4, 2019, 8:00 am

Map
Fitness Plus Dexter
1212 Saint Francis Dr. Dexter, MO 63841