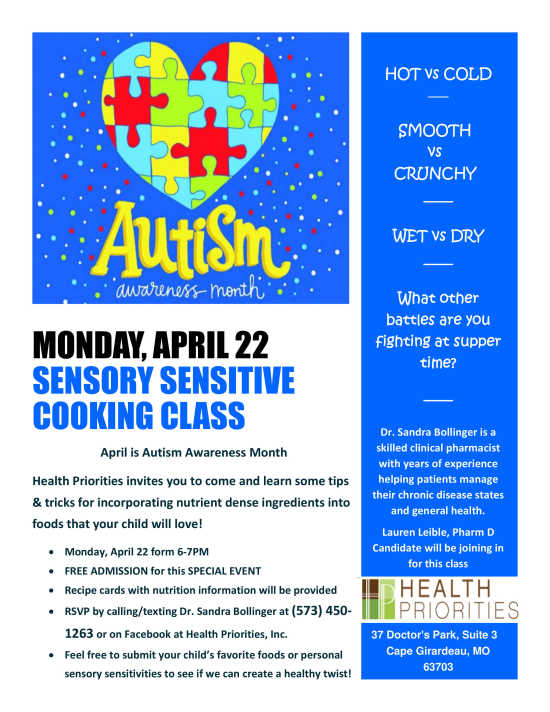 Past:

Sensory Sensitive Cooking Class - (April Autism Awareness Month)
Health Priorities, Inc.
MONDAY, APRIL 22
SENSORY SENSITIVE COOKING CLASS by Lauren Leible, Pharm D Candidate & Dr. Sandra Bollinger.
April is Autism Awareness Month
Health Priorities invites you to come and learn some tips & tricks for incorporating nutrient dense ingredients into foods that your child will love!
• Monday, April 22 from 6-7 p.m.
• FREE ADMISSION for this SPECIAL EVENT (RSVP Required)
• Recipe cards with nutrition information will be provided
• RSVP by calling/texting Dr. Sandra Bollinger at (573) 450-1263 or on Facebook at Health Priorities, Inc.
• Feel free to submit your child's favorite foods or personal sensory sensitivities to see if we can create a healthy twist!
Past Dates & Times
Monday, Apr 22, 2019, 6:00 pm - 7:00 pm

Map
Health Priorities, Inc.
37 Doctors Park, Suite 3, Cape Girardeau MO