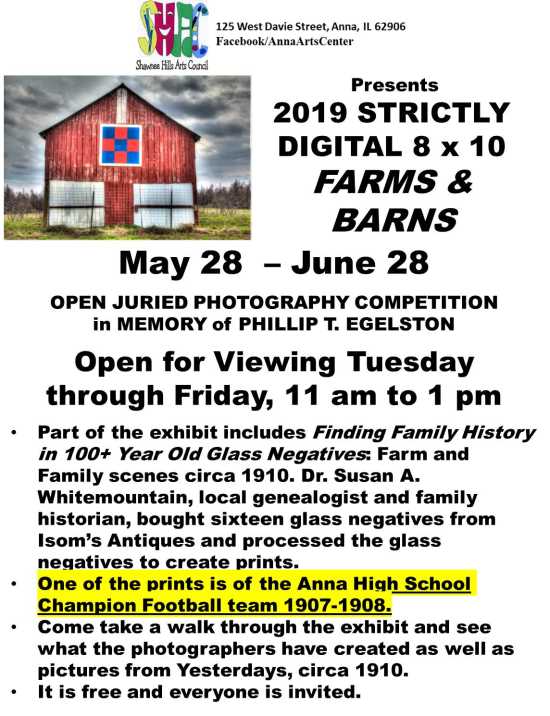 Past:

2019 STRICTLY DIGITAL 8 x 10
Anna Arts Center
May 28 – June 28
OPEN JURIED PHOTOGRAPHY COMPETITION
in MEMORY of PHILLIP T. EGELSTON
Open for Viewing Tuesday through Friday, 11 a.m. to 1 p.m.
Part of the exhibit includes Finding Family History in 100+ Year Old Glass Negatives: Farm and Family scenes circa 1910. Dr. Susan A. Whitemountain, local genealogist and family historian, bought sixteen glass negatives from Isom's Antiques and processed the glass negatives to create prints.
One of the prints is of the Anna High School Champion Football team 1907-1908.
Come take a walk through the exhibit and see what the photographers have created as well as pictures from Yesterdays, circa 1910.
It is free and everyone is invited.
Past Dates & Times
Thursday, May 30, 2019, 11:00 am - 1:00 pm
Friday, May 31, 2019, 11:00 am - 1:00 pm
Tuesday, June 4, 2019, 11:00 am - 1:00 pm
Wednesday, June 5, 2019, 11:00 am - 1:00 pm
Thursday, June 6, 2019, 11:00 am - 1:00 pm
Friday, June 7, 2019, 11:00 am - 1:00 pm
Tuesday, June 11, 2019, 11:00 am - 1:00 pm
Wednesday, June 12, 2019, 11:00 am - 1:00 pm
Thursday, June 13, 2019, 11:00 am - 1:00 pm
Friday, June 14, 2019, 11:00 am - 1:00 pm
Tuesday, June 18, 2019, 11:00 am - 1:00 pm
Wednesday, June 19, 2019, 11:00 am - 1:00 pm
Thursday, June 20, 2019, 11:00 am - 1:00 pm
Friday, June 21, 2019, 11:00 am - 1:00 pm
Tuesday, June 25, 2019, 11:00 am - 1:00 pm
Wednesday, June 26, 2019, 11:00 am - 1:00 pm
Thursday, June 27, 2019, 11:00 am - 1:00 pm
Friday, June 28, 2019, 11:00 am - 1:00 pm

Map
Anna Arts Center
125 West Davie St, Anna, IL 62906