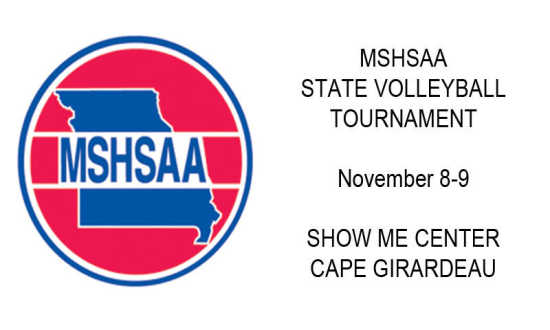 Past:

2019 MSHSAA State Volleyball Championships
Show Me Center
2019 MSHSAA State Girls Volleyball Championships
November 8-9, 2019
The Missouri State High School Activities Association Girls Volleyball Championships will be held at Cape Girardeau's Show Me Center on November 8-9, 2019.
The Show Me Center is a multipurpose facility located on the campus of Southeast Missouri State University. Since opening its doors in 1987 this joint project between the City of Cape Girardeau and the State of Missouri has matured into a regional facility serving the 250,000 residents of Southeast Missouri, Southern Illinois, and Western Kentucky. The Show Me Center, which annually hosts 250 meeting room and 160 arena events, is an entertainment, meeting, and gathering center.
Consisting of a 7,000-seat arena, three concourses and six meeting rooms, the Show Me Center was designed with flexibility in mind. Telescopic lower level arena seating allows for a wide assortment of arena configurations and ease in changeover from event to event. With its retractable seating, the arena can be transformed into a 32,000 square foot exhibit hall in mere hours. Not only can large arena events take place on successive evenings, but the building's design allows for multiple events to take place simultaneously.
The tournament's format will remain the same, featuring two competition courts for Friday's round-robin semifinals and one playing court for Saturday's championship and third-place matches. All told, 24 matches are played on Friday to determine the match-ups for Saturday's four third-place and four championship matches. Sixteen teams -- four teams in each of the MSHSAA's four volleyball classifications -- advance to the championship site each year.
TICKETS:Ticket Prices are: $8.00 per day (Children 5 & Under do not need a ticket)
-Box Office will open at 7:30am each day
-Doors will open at 8am each day (first match is at 9am each day)
PARKING: $5.00 per space per day
Past Dates & Times
Friday, November 8, 2019, 9:00 am - 10:00 pm
Saturday, November 9, 2019, 9:00 am - 7:00 pm

Map
Show Me Center
1333 N. Sprigg St., Cape Girardeau, MO