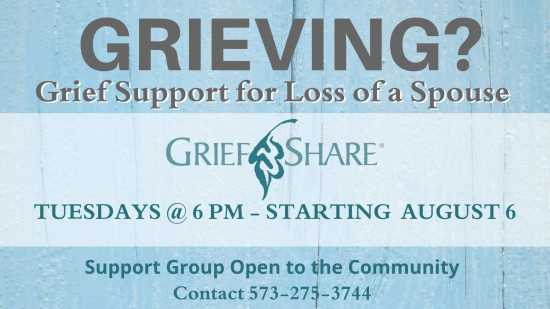 Past:

GriefShare - Support Group for Loss of a Spouse
St. Paul Lutheran Church
A thirteen-week series will start on Tuesday, August 6th at 6 p.m. in the Fellowship Hall of St. Paul Lutheran Church (Jackson).
If your spouse died recently or in the last several years, these faith-based sessions can be of great help and encouragement.
Please bring a friend, neighbor, or family member who has also lost a spouse.
Contact: Molly Strickland at 275-3744.
Past Dates & Times
Tuesday, August 6, 2019, 6:00 pm - 7:30 pm
Tuesday, August 13, 2019, 6:00 pm - 7:30 pm
Tuesday, August 20, 2019, 6:00 pm - 7:30 pm
Tuesday, August 27, 2019, 6:00 pm - 7:30 pm
Tuesday, September 3, 2019, 6:00 pm - 7:30 pm
Tuesday, September 10, 2019, 6:00 pm - 7:30 pm
Tuesday, September 17, 2019, 6:00 pm - 7:30 pm
Tuesday, September 24, 2019, 6:00 pm - 7:30 pm
Tuesday, October 1, 2019, 6:00 pm - 7:30 pm
Tuesday, October 8, 2019, 6:00 pm - 7:30 pm
Tuesday, October 15, 2019, 6:00 pm - 7:30 pm
Tuesday, October 22, 2019, 6:00 pm - 7:30 pm
Tuesday, October 29, 2019, 6:00 pm - 7:30 pm

Map
St. Paul Lutheran Church
223 W. Adams St., Jackson, MO