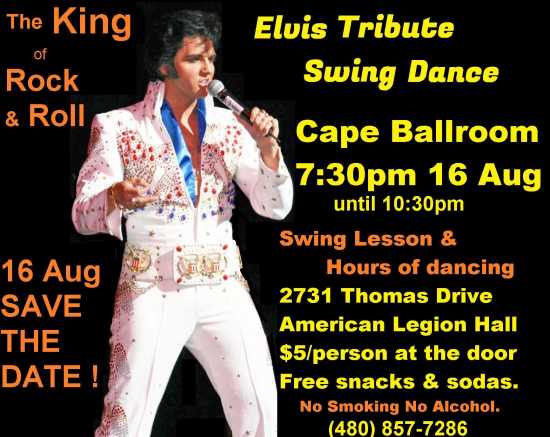 Past:

Elvis Anniversary - King of Rock & Roll
Cape Ballroom at American Legion
Save the Date!
Join Cape Ballroom on Friday, August 16,
the 42nd anniversary of Elvis Presley's death,
as we celebrate the King of Rock & Roll.
We'll start the evening with an East Coast Swing lesson,
then dance the night away to Elvis's greatest hits!
Cape Ballroom meets on Fridays at 7:30 p.m. Only $5.00 per person at the door. No partner or experience required. Enjoy a friendly and relaxed atmosphere, with instruction at beginner and intermediate levels. Admission includes a one-hour lesson followed by two hours of dancing. Free snacks, water, and soft drinks available. No smoking, no alcohol. Located at the American Legion building, 2731 Thomas Dr., Cape Girardeau, MO 63701. For more information, contact Dan at (480) 857-7286 or dan@capeballroom.com.
Past Dates & Times
Friday, July 26, 2019, 7:30 pm - 10:30 pm
Friday, August 16, 2019, 7:30 pm - 10:30 pm

Map
Cape Ballroom at American Legion
2731 Thomas Drive, Cape Girardeau, MO 63701