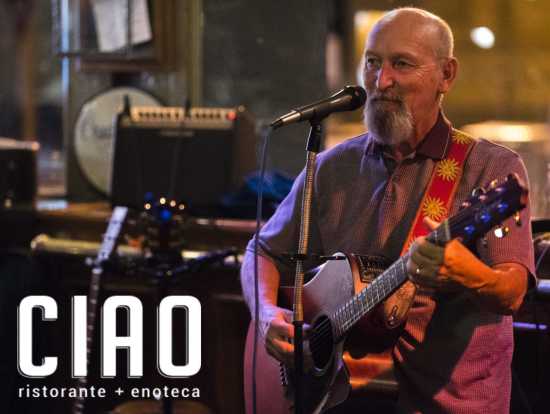 Past:

Bruce Zimmerman & Brad "Boogie" Graham: LIVE at Ciao
Ciao Ristorante + Enoteca
Bruce Zimmerman & Brad "Boogie" Graham return for another delightful Friday evening at Ciao! Bruce is a singer-songwriter specializing in blues and has been captivating audiences for decades. Join us for Happy Hour for buy one get one all beer, liquor, and wines by the glass! There's no better way to kick off your weekend than with live music, delicious dinner specials, and great company!
Call (573) 332-8884 or visit our website at www.ciaocape.com to make reservations.
HAPPY HOUR 4:00 p.m to 6 p.m. // LIVE MUSIC 6:00 p.m. to 9 p.m.
Past Dates & Times
Friday, July 26, 2019, 6:00 pm - 9:00 pm
Friday, August 2, 2019, 6:00 pm - 9:00 pm
Friday, August 9, 2019, 6:00 pm - 9:00 pm
Friday, August 16, 2019, 6:00 pm - 9:00 pm
Friday, August 23, 2019, 6:00 pm - 9:00 pm
Friday, August 30, 2019, 6:00 pm - 9:00 pm
Friday, September 6, 2019, 6:00 pm - 9:00 pm
Friday, September 13, 2019, 6:00 pm - 9:00 pm
Friday, September 27, 2019, 6:00 pm - 9:00 pm
Friday, October 4, 2019, 6:00 pm - 9:00 pm
Friday, October 18, 2019, 6:00 pm - 9:00 pm
Friday, January 10, 2020, 6:00 pm - 9:00 pm
Friday, January 31, 2020, 6:00 pm - 9:00 pm
Friday, February 7, 2020, 6:00 pm - 9:00 pm
Friday, February 14, 2020, 6:00 pm - 9:00 pm
Friday, February 21, 2020, 6:00 pm - 9:00 pm
Friday, February 28, 2020, 6:00 pm - 9:00 pm
Friday, March 6, 2020, 6:00 pm - 9:00 pm
Friday, March 13, 2020, 6:00 pm - 9:00 pm
Friday, March 20, 2020, 6:00 pm - 9:00 pm
Friday, March 27, 2020, 6:00 pm - 9:00 pm
Friday, April 3, 2020, 6:00 pm - 9:00 pm
Friday, April 10, 2020, 6:00 pm - 9:00 pm
Friday, April 17, 2020, 6:00 pm - 9:00 pm

Map
Ciao Ristorante + Enoteca
1650 N Kingshighway, Cape Girardeau, MO