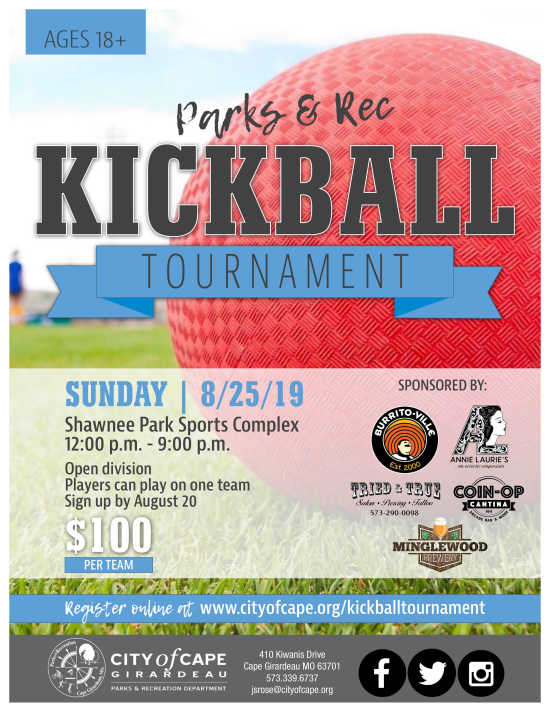 Past:

Adult Kickball Tournament
Shawnee Park Sports Complex
The City of Cape Girardeau Parks and Recreation Department is offering a Kickball Tournament. This new event is sponsored by Burritoville, Tried & True, Annie Laurie's, Minglewood and Coin-op Cantina. The Kickball Tournament is for adults ages 18 and up. Each team will play a minimum of 2 games. Top 4 teams will receive t-shirts.
Tournament Date: August 25th
Tournament Time: Noon-9pm
Tournament Location: Shawnee Park Sports Complex
Tournament Fee: $100/team
Registration Deadline: August 20th
How to Register: To register, please go to http://www.cityofcapegirardeau.org/kickballtournament to register online or download a registration form to turn it into the A.C. Brase Arena located at 410 Kiwanis Dr. Cape Girardeau, MO 63701 or Osage Center located at 1625 N. Kingshighway Cape Girardeau, MO 63701.
If you would like more information, please contact Jen Rose at 573-587-4658 or at jsrose@cityofcape.org.
Past Dates & Times
Sunday, August 25, 2019, Noon - 9:00 pm

Map
Shawnee Park Sports Complex
1157 South West End Boulevard, Cape Girardeau, MO 63703