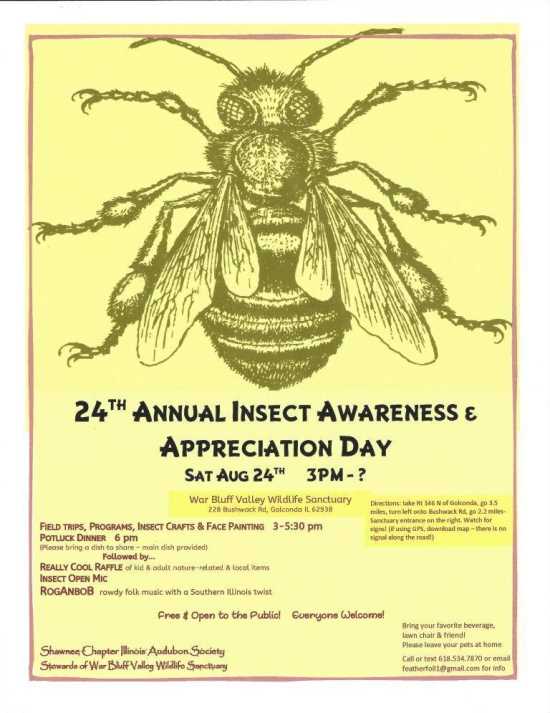 Past:

24th Annual Insect Awareness & Appreciation Day!
War Bluff Valley Wildlife Sanctuary
A celebration of all things Insect! Held at War Bluff Valley Wildlife Sanctuary, Golconda, IL and sponsored by Shawnee Chapter Illinois Audubon Society.
3-5:30 PM Workshops on Gardening for Butterflies & Field trips opn Local pollinators & Aquatic Insects, Insect Zoo, Face-painting, Insect Crafts.
6 PM Potluck Dinner (main dish provided, please bring a dish to share. Followed by the Really Cool Raffle of nature-related & local items, Insect Open Mic, and local musical trio RobAnboB - playing the gospel of goof & rowdy folk music with a Southern Illinois twist. Bring your favorite beverage, lawn chair & friend. Please leave your pets at home.
Directions to War Bluff Valley Wildlife Sanctuary, located at 228 Bushwack Rd, Golconda, IL 62938: Follow Rt. 146 north from the 4-way stop in Golconda. Go 3.5 miles, turn left at Bushwack Road (the first road past the Eddyville Blacktop), marked by a brown binocular Wildlife Viewing sign. Follow Bushwack Road (blacktop, then gravel) 2.2 miles. Turn right at the Illinois Audubon Sanctuary sign. Donít give up! Watch for signs! We Recommend downloading the map, as there is no signal along the road.
Shawnee Chapter is the local chapter of the Illinois Audubon Society. Established in 1897, The Illinois Audubon Society (IAS) is an independent non-profit organization. The mission of the Illinois Audubon Society is to promote the perpetuation and appreciation of native plants and animals and the habitats that support them. For more information, please call or text 618.534.7870 or email featherfoil1@gmail.com
Past Dates & Times
Saturday, August 24, 2019, 3:00 pm

Map
War Bluff Valley Wildlife Sanctuary
228 Bushwack Rd, Golconda, IL