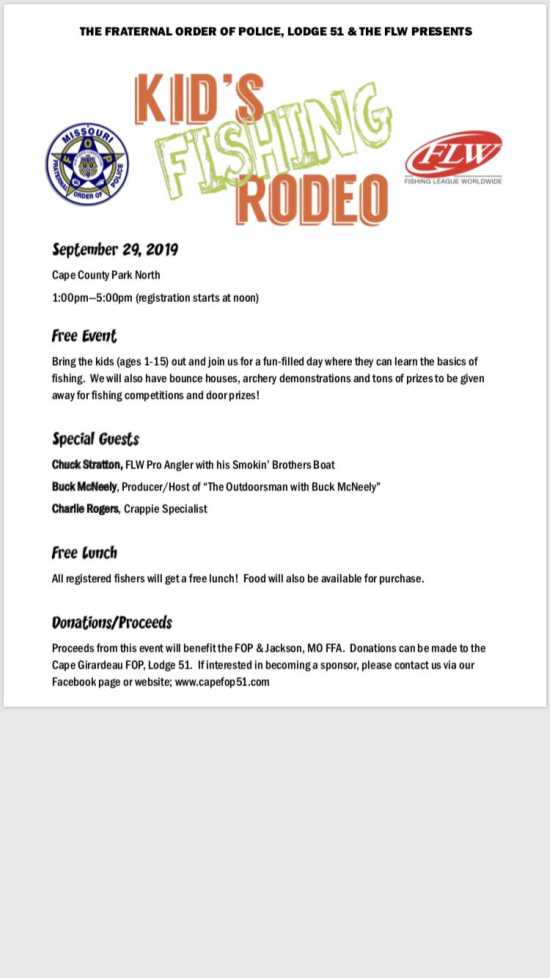 Past:

3rd Annual FOP Fishing Rodeo
Cape Girardeau County Park North
The Cape Girardeau Fraternal Order of Police Lodge 51 is partnering with the Jackson FFA Club to bring you the 3rd Annual kids fishing rodeo.
This is a free event open to all kids 15 and under. We will have a lot of giveaways along with several events.
The fishing rodeo will take place at the North County Park in Cape Girardeau on September 29th. Registration will begin at noon and the event will kick off at 1pm. Bait and poles will be provided free if you need them.
All registered kids will also receive a free meal. We look forward to seeing you there and check back often on our Facebook page or website capefop51.com for more exciting things to come.
Past Dates & Times
Sunday, September 29, 2019, 1:00 pm - 5:00 pm

Map
Cape Girardeau County Park North
2400 County Park Dr, Cape Girardeau, MO