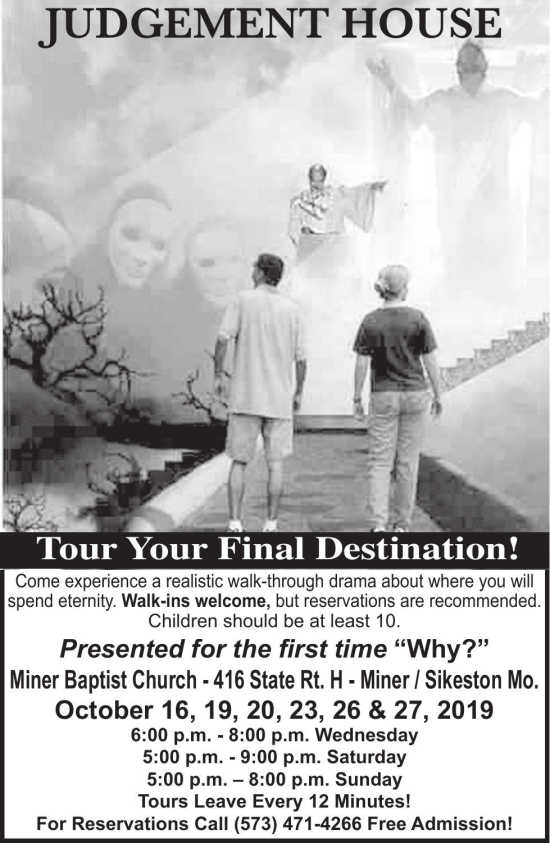 Past:

Judgement House! Tour Your Final Destination.
Miner Baptist Church
Miner Baptist Church, Tour Your Final Destination In Judgement House!
Judgement House is an alternative to the haunted house. It is a 6-scene walk thru drama that makes people aware of the reality of heaven and hell. It also shows them that hell is the ultimate haunted house!
This year's never seen before presentation "Why" can be seen at Miner Baptist Church October 16, 19, 20, 23, 26 & 27.
Wednesday tours are from 6:00 to 8:00 with Saturday 5:00 to 9:00 and Sunday 5:00 to 8:00. Tours begin every 12 minutes and last one hour.
Walk-ins are welcome, but reservations at (573) 471-4266 are recommended.
Children should be at least 10. Admission is free!
Past Dates & Times
Wednesday, October 16, 2019, 6:00 pm - 8:00 pm
Saturday, October 19, 2019, 5:00 pm - 9:00 pm
Sunday, October 20, 2019, 5:00 pm - 8:00 pm
Wednesday, October 23, 2019, 6:00 pm - 8:00 pm
Saturday, October 26, 2019, 5:00 pm - 9:00 pm
Sunday, October 27, 2019, 5:00 pm - 8:00 pm

Map
Miner Baptist Church
416 State Rt. H, Miner MO