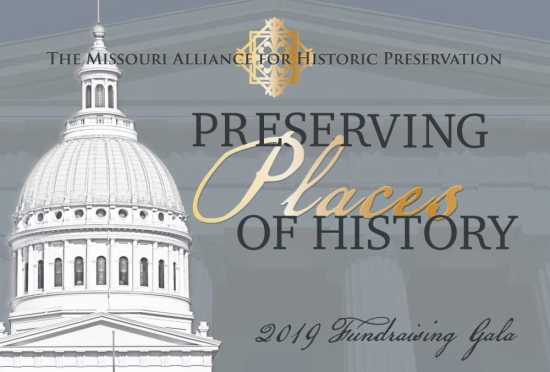 Past:

2019 Missouri Preservation Fundraising Gala
Old Courthouse
Join Missouri Preservation at the Old Courthouse in downtown St. Louis for an evening of history and appreciation for the stories our historic buildings can tell us. Chaired by local philanthropist and jewelry designer Mary Pillsbury Wainwright and historian Mimi Stiritz, the 2019 Missouri Preservation fundraising gala recognizes the importance of Preserving Places of History.
The Old Courthouse, part of the newly re-christened Gateway Arch National Park, is well known as the site of the first two trials in the Dred Scott case, where in 1847 and 1850 slave Dred Scott sued for his freedom. In the 1870's, the courthouse became the site of Virginia Minor's case for women's suffrage. Today, the courthouse serves as a reminder of the trials and tribulations in America's fight for equality.
Missouri Preservation's goal of preserving place and community for future generations directly correlates with the educational goals of the Old Courthouse, Gateway National Park, and other historic sites around the globe — these places of history teach us about who we are. At Missouri Preservation we strive to help the lesser known places of history —the local places— and the individuals that support them. These places are just as valuable to the cultural fabric of Missouri and their continued preservation contributes to the enlightenment of future generations of Missourians.
Funds raised from the gala will contribute to our day to day activities of assisting individuals with preservation issues, keeping the public informed on what is happening with preservation around the state, and planning upcoming programs that aim to educate Missourians on how they can help with preservation efforts in their own communities.
The evening will feature tours of the Old Courthouse, including the existing exhibit galleries. For an additional fee, guests will have the opportunity to visit spaces generally closed off to the public. Tickets start at $150 and include hors d'oeuvres and an open bar, provided by Butler's Pantry.
Past Dates & Times
Friday, December 6, 2019, 6:00 pm

Map
Old Courthouse
11 N. 4th Street, St. Louis, MO 63102