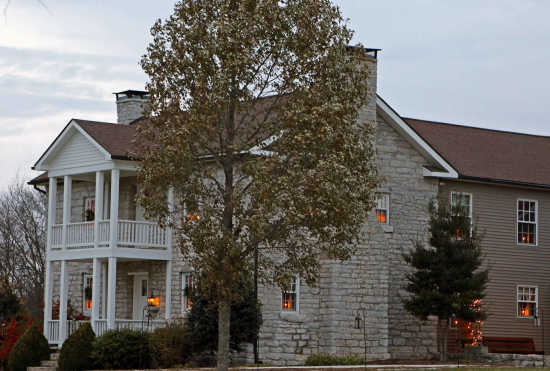 Past:

Dinner theater at The Byrd House: "Tale of Three Brothers"
The Byrd House
The Byrd House opens the door on history with the dinner theater experience, "Tale of Three Brothers: A Byrd's Eye View of the Rise of the Republic."
We invite you to release your imaginations as a storyteller transports you back to a fascinating time in history full of wrenching conflicts and change, as bold frontiersman carve out their place in the wild wilderness, and a fledgling America struggles to survive as a sovereign nation. You will then enjoy a delightful savory dinner in Stephen Byrd's 200 year old stone house where actors will further entertain you.
Contact 573-243-3764 for ticket information. This is an advance ticket sale event only.
Past Dates & Times
Thursday, November 14, 2019, 5:00 pm
Friday, November 15, 2019, 5:00 pm
Saturday, November 16, 2019, 5:00 pm
Thursday, November 21, 2019, 5:00 pm
Friday, November 22, 2019, 5:00 pm
Saturday, November 23, 2019, 5:00 pm
Thursday, December 5, 2019, 5:00 pm
Friday, December 6, 2019, 5:00 pm
Saturday, December 7, 2019, 5:00 pm
Thursday, December 12, 2019, 5:00 pm
Friday, December 13, 2019, 5:00 pm
Saturday, December 14, 2019, 5:00 pm

Map
The Byrd House
261 Cornerstone Lane, Jackson, MO