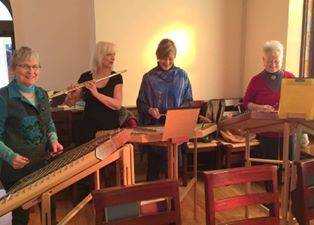 Past:

Interfaith Holiday Concert
Christ Episcopal Church
Join us on First Friday, December 6, for the fourth annual Feed the Hungry benefit concert, to be held at Christ Episcopal Church, 101 N. Fountain in Cape Girardeau. Local musicians coming from various faith communities will perform traditional and seasonal music from 6:30-9 p.m., approximately.
If you canít make it for the whole concert just drop in and listen while you can.
There is no admission charge but Free Will donations of money or canned/packaged food will be appreciated. These donations will be shared by FISH and the Red Door Ministries. Musicians are donating their time and talent to support the less fortunate in our community.
Performers include: Joyful Strings Mountain Dulcimers, the Gathkinsons, Hammered Grannies, and Barefoot on Sunday
Past Dates & Times
Friday, December 6, 2019, 6:30 pm

Map
Christ Episcopal Church
101 N. Fountain St., Cape Girardeau, MO