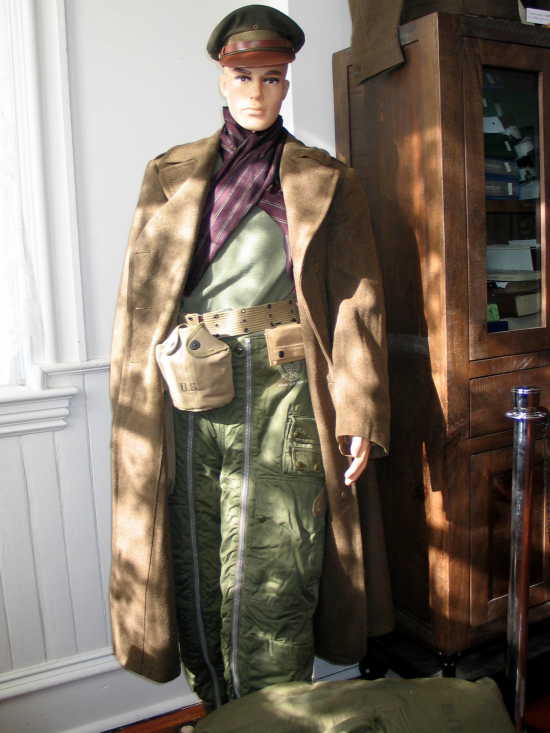 World War II Exhibit
Thursday, January 21, 2021, Noon - 4:30 pm
Bollinger County Museum of Natural History
Explore WWII in our new World War II exhibit.
Included in the exhibit are uniforms, weapons, photos, personal items, stories telling World War II veterans experiences, and other relevant historical memorabilia.
Museum hours are: Thursday, Friday, and Saturday from 12:00 (noon)- 4:30 p.m.
Admission: Adults $5, 17 years and under $2
In case of inclement weather please call ahead to verify museum is open.
If Woodland R-IV school is closed due to road conditions the museum will close.
For more information call (573) 238-1174 or email bcmnh@sbcglobal.net
Dates & Times
Thursday, January 21, 2021, Noon - 4:30 pm
Friday, January 22, 2021, Noon - 4:30 pm
Saturday, January 23, 2021, Noon - 4:30 pm
Thursday, January 28, 2021, Noon - 4:30 pm
Friday, January 29, 2021, Noon - 4:30 pm
Saturday, January 30, 2021, Noon - 4:30 pm
Thursday, February 4, 2021, Noon - 4:30 pm
Friday, February 5, 2021, Noon - 4:30 pm
Saturday, February 6, 2021, Noon - 4:30 pm
Sunday, February 7, 2021, Noon - 4:30 pm
Thursday, February 11, 2021, Noon - 4:30 pm
Friday, February 12, 2021, Noon - 4:30 pm
Saturday, February 13, 2021, Noon - 4:30 pm
Thursday, February 18, 2021, Noon - 4:30 pm
Friday, February 19, 2021, Noon - 4:30 pm
Saturday, February 20, 2021, Noon - 4:30 pm
Thursday, February 25, 2021, Noon - 4:30 pm
Friday, February 26, 2021, Noon - 4:30 pm
Saturday, February 27, 2021, Noon - 4:30 pm
Thursday, March 4, 2021, Noon - 4:30 pm
Friday, March 5, 2021, Noon - 4:30 pm
Saturday, March 6, 2021, Noon - 4:30 pm
Sunday, March 7, 2021, Noon - 4:30 pm
Thursday, March 11, 2021, Noon - 4:30 pm
Friday, March 12, 2021, Noon - 4:30 pm
Saturday, March 13, 2021, Noon - 4:30 pm
Thursday, March 18, 2021, Noon - 4:30 pm
Friday, March 19, 2021, Noon - 4:30 pm
Saturday, March 20, 2021, Noon - 4:30 pm
Thursday, March 25, 2021, Noon - 4:30 pm
Friday, March 26, 2021, Noon - 4:30 pm
Saturday, March 27, 2021, Noon - 4:30 pm
Thursday, April 1, 2021, Noon - 4:30 pm
Friday, April 2, 2021, Noon - 4:30 pm
Saturday, April 3, 2021, Noon - 4:30 pm
Thursday, April 8, 2021, Noon - 4:30 pm
Friday, April 9, 2021, Noon - 4:30 pm
Saturday, April 10, 2021, Noon - 4:30 pm
Thursday, April 15, 2021, Noon - 4:30 pm
Friday, April 16, 2021, Noon - 4:30 pm
Saturday, April 17, 2021, Noon - 4:30 pm
Thursday, April 22, 2021, Noon - 4:30 pm
Friday, April 23, 2021, Noon - 4:30 pm
Saturday, April 24, 2021, Noon - 4:30 pm
Thursday, April 29, 2021, Noon - 4:30 pm
Friday, April 30, 2021, Noon - 4:30 pm
Saturday, May 1, 2021, Noon - 4:30 pm
Sunday, May 2, 2021, Noon - 4:30 pm
Thursday, May 6, 2021, Noon - 4:30 pm
Friday, May 7, 2021, Noon - 4:30 pm
Saturday, May 8, 2021, Noon - 4:30 pm
Thursday, May 13, 2021, Noon - 4:30 pm
Friday, May 14, 2021, Noon - 4:30 pm
Saturday, May 15, 2021, Noon - 4:30 pm
Thursday, May 20, 2021, Noon - 4:30 pm
Friday, May 21, 2021, Noon - 4:30 pm
Saturday, May 22, 2021, Noon - 4:30 pm
Thursday, May 27, 2021, Noon - 4:30 pm
Friday, May 28, 2021, Noon - 4:30 pm
Saturday, May 29, 2021, Noon - 4:30 pm
Thursday, June 3, 2021, Noon - 4:30 pm
Friday, June 4, 2021, Noon - 4:30 pm
Saturday, June 5, 2021, Noon - 4:30 pm
Sunday, June 6, 2021, Noon - 4:30 pm
Thursday, June 10, 2021, Noon - 4:30 pm
Friday, June 11, 2021, Noon - 4:30 pm
Saturday, June 12, 2021, Noon - 4:30 pm
Thursday, June 17, 2021, Noon - 4:30 pm
Friday, June 18, 2021, Noon - 4:30 pm
Saturday, June 19, 2021, Noon - 4:30 pm
Thursday, June 24, 2021, Noon - 4:30 pm
Friday, June 25, 2021, Noon - 4:30 pm
Saturday, June 26, 2021, Noon - 4:30 pm

Map
Bollinger County Museum of Natural History
209 Mayfield Dr., Marble Hill, MO