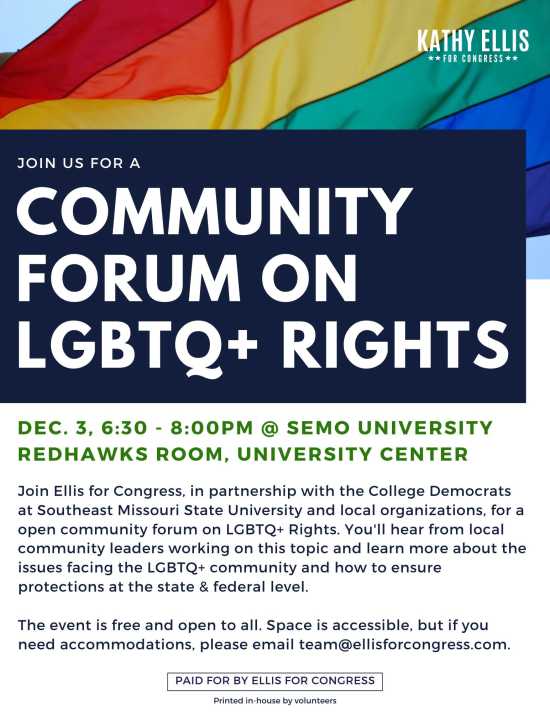 Past:

Community Forum on LGBTQ+ Rights
Southeast Missouri State University-University Center, Redhawk Room
Kathy Ellis, Democratic Candidate for Congress in Missouri's 8th District, along with local organizers Aaron Lerma, Amber Moyers, and the SEMO College Democrats, are hosting a Community Forum on LGBTQ+ Rights on December 3, 2019 at 6:30p in the Redhawk Room at the University Center at SEMO. Panelists/facilitators include local organizers working on LGBTQ+ Rights and community; Amber Moyers, Candidate for MO-147; Kaitlin Cavey, Statewide Field Coordinator for PROMO, a leading LGBTQ+ advocacy organization; and Kathy Ellis, Candidate for US Congress.
The event is free and open to the public, and is a space to ask questions of panelists, share experiences, and begin to work together to identify ways we can provide the necessary and important rights of those who identify as LGBTQ+. All are invited, regardless of party or affiliation, but hate will not be tolerated.
"In the past year, we've seen great progress in Cape Girardeau, including a Pride Festival that had over 1500+ attendees. As a member of the LGBTQ+ community, and as a Candidate for Congress, we must come together to learn more about the challenges facing the LGBTQ+ community, and what can be done at the state, local, and federal level to protect and preserve rights for my community. We're excited about this panel, and about the opportunity to bring together allies and those who identify as LGBTQ+ for this important event," said Kathy Ellis.
Kathy has worked as a Licensed Clinical Social Worker and Addictions Counselor for over 35 years. In addition, Kathy serves on the Board of numerous organizations, including a committee on cultural diversity, a local community health center, and an organization providing services to victims of domestic violence. Kathy currently lives in Festus with her spouse, Ann. This forum is the seventh in a series of community-led forums throughout the District.
For more information about Kathy's campaign and the forum, please visit www.ellisforcongress.com.
Past Dates & Times
Tuesday, December 3, 2019, 6:30 pm - 8:00 pm

Map
Southeast Missouri State University-University Center, Redhawk Room
388 N. Henderson Ave. Cape Girardeau, MO 63701