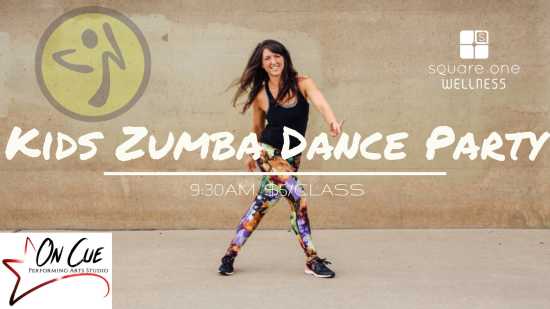 Past:

Saturday Kids Zumba at On Cue
On Cue Performing Arts Studio
I'm so excited to finally offer a Saturday Kids Zumba class opportunity! Note special upcoming dates for class - not every Saturday!
These class will be held at On Cue Performing Arts Studio (located on 2437 Myra Street Cape Girardeau Missouri 63701 - (near Commerce Bank between William and Independence st NOT Downtown on Spanish St. They have recently moved and Google is wrong!) They are under NEW management and full of exciting ideas with amazing classes for all ages and dancing abilities! They have graciously allowed me to use their studio space for our kids zumba classes and I am beyond thrilled!
Zumba class admission is $5/child. Acceptable payment is cash or through the Venmo app @EllenGipsonRD.
In this special kids Zumba classes we will do simple choreography to some of your kids favorite songs as well as authentic Latin-inspired hits created by Zumba. All ages can participate, but those between 2-10 years will enjoy it the most.
Children should wear comfortable, good-fitting tennis shoes. and expect to laugh and sweat! Bring water and a towel if needed.
Studio doors will be open 15 minutes before class (9:15am), and lock 5 minutes after class begins. Parents are welcome to participate with us or sit and watch. Children should not be dropped off. Indoor restrooms are available.
Follow my page Zumba Ellen for more adult & children class times with me! Zumba really is the most fun workout you'll ever do. Nobody cares if you don't know how to dance, if you're off beat the whole time, or you have to rest in between songs. Zumba is for you! A time to experience something new, a time to laugh at yourself, a time to bond with friends, and time to put your physical and mental health FIRST! Everyone is welcome!
Past Dates & Times
Saturday, January 18, 2020, 9:30 am - 10:30 am
Saturday, February 1, 2020, 9:30 am - 10:30 am

Map
On Cue Performing Arts Studio
2437 Myra Street Cape Girardeau Missouri 63701