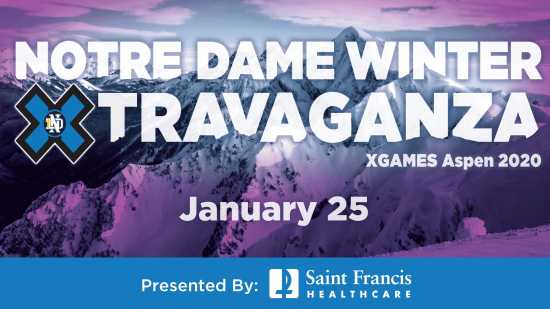 Past:

Winter Extravaganza 2020
Drury Plaza Hotel Cape Girardeau Conference Center
The Notre Dame Regional High School Winter Extravaganza Presented by Saint Francis Healthcare on Saturday, January 25 from 6:00 p.m. - Midnight. The Winter Extravaganza will take place at the Drury Plaza Convention Center.
Heavy Hors D'oeuvres, Open Bar, Downtime Band, Live Auction & more!
$75 per ticket
$700 per table of 10
$1,400 VIP table of 10 (5 Cargo Technologies Round Trips, 10 Premium Beverage Upgrades, Champagne, and Specialty Dessert)
Premium Beverage Upgrade available for $20 per person.
Our annual Winter Extravaganza takes place Saturday, January 25, at Drury Plaza Hotel Conference Center in Cape Girardeau.
This event supports our Technology department and helps us stay equipped and current in a quickly-changing environment. Funding for this department benefits everyone in our school!
Contact
Phone: (573) 335-6772 ext. 311
Past Dates & Times
Saturday, January 25, 2020, 6:00 pm - midnight

Map
Drury Plaza Hotel Cape Girardeau Conference Center
3351 Percy Drive, Cape Girardeau, Missouri 63701