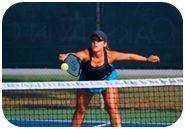 Pro Pickleball Exhibition Games With Local Celebrities
Thursday, February 27, 2020, 7:00 pm
Jackson High Schoolís old gym
Come help raise money for cancer and watch some of the best in the world show you about the game. We have a fun night planned to entertain you with local celebrities and other top 5.0 players in the State. Please come out and show your support. We will be giving away some free paddles and other things. So come help us give money to cancer research. 100 % of all money made from this event will go to Cancer Research. If you have never heard of pickleball or just want to watch some great talent plus local celebrities, then this night is meant for you.
Lindsey Newman has been playing since 2017 and has had a big impact on the sport. Some of the things she has accomplished in 2019 Mixed pro: gold at Vail, Silver at Nationals, Bronze at Us Open. She won Gold in singles in Chicago and in Hawaii. She also earned Sliver in womenís doubles at Tournament of Champions.
Kasandra Gehrke has been playing for a while now and has the pickleball bug so bad she gave up her job as an Elementary PE Teacher to follow her dream to make this sport her life. She has a Bachelorís degree in Physical Education. She has been on the medal stand in major tournaments since 2016 from Nationals to the US open. She is teaching pickleball all over the country now.
Map
Jackson High Schoolís old gym
315 S Missouri St, Jackson, MO