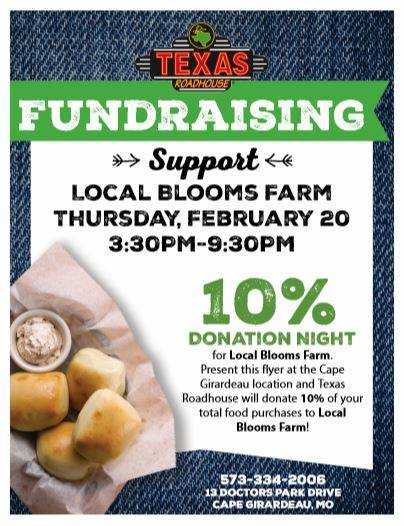 Past:

Local Blooms Farm Fundraiser at Texas Roadhouse
Texas Roadhouse
Our first fundraiser!!! Money raised will go to help our G.R.O.W. Kids Club and a Jefferson Elementary Garden project.
February 20th from 3:30 p.m - 9:30 p.m. at Texas Roadhouse - Cape Girardeau, MO.
Spread the word! You must either present this page to the waiter or waitress or just tell them that you want 10% of your tab to go towards Local Blooms Farm.
Thanks for your support as we help our kids grow through projects in the community.
Past Dates & Times
Thursday, February 20, 2020, 3:30 pm - 9:30 pm

Map
Texas Roadhouse
13 Doctors Park Drive, Cape Girardeau, MO 63703