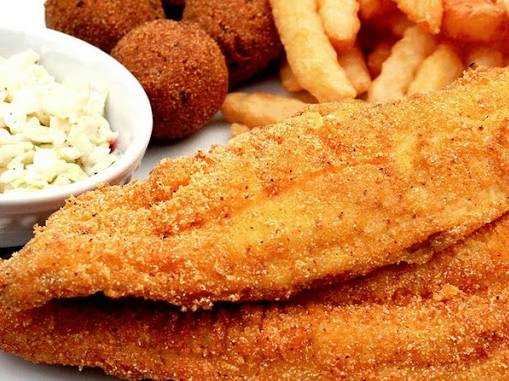 Past:

POSTPONED UNTIL FURTHER NOTICE / Lenten Fish Fry!! Knights of Columbus # 1111
Knights of Columbus Council #1111
Our Delicious Menu includes: Fried Catfish, Hush Puppies, French Fries, Slaw, Baked Beans, Bread and Onions as well as Desserts.
We will be serving in the Rathskeller (Lower Hall).
A cash bar will be available. Carry-outs are also available!
Only $12 Adults • $6 Children 6-12yrs.
The general public is invited and encouraged to attend.
"Good Food with Good Friends sharing Good Times"!!
Contact
Past Dates & Times
Friday, February 21, 2020, 5:00 pm - 7:00 pm
Friday, February 28, 2020, 5:00 pm - 7:00 pm
Friday, March 6, 2020, 5:00 pm - 7:00 pm
Friday, March 13, 2020, 5:00 pm - 7:00 pm
Friday, March 20, 2020, 5:00 pm - 7:00 pm
Friday, March 27, 2020, 5:00 pm - 7:00 pm
Friday, April 3, 2020, 5:00 pm - 7:00 pm

Map
Knights of Columbus Council #1111
318 South Spanish Street, Cape Girardeau, MO