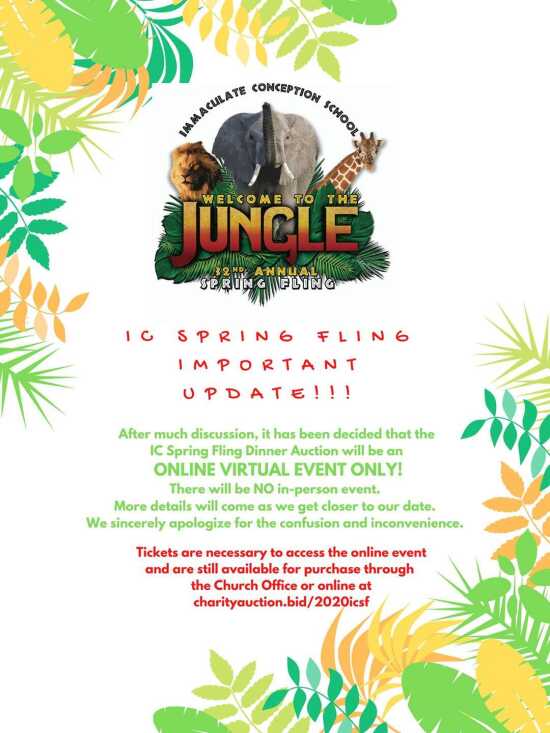 Past:

Immaculate Conception Spring Fling Auction - online
Immaculate Conception Catholic Church
IC School's LARGEST fundraiser of the year opens up at 12:01 a.m. Saturday, July 11, and stays "live" through midnight Saturday, July 18!
Register now to gain access to many fabulous items: custom built furniture, raffles, class baskets, family fun packages, and so much more!
Go to charityauction.bid\2020icsf.
Thank you for your continued support!
*Please note*
To be able to access your account, it is critical for you to have an email address on file with our system. If you purchased tickets for guests and did not enter an email address for them, they will not be able to participate in our event until an account is created. The ticket purchaser's ticket statement lists all the tickets a bidder has bought and provides a link for them to update the guest information associated with tickets.
Past Dates & Times
Saturday, July 11, 2020, 12:00 am
Sunday, July 12, 2020, 12:00 am
Monday, July 13, 2020, 12:00 am
Tuesday, July 14, 2020, 12:00 am
Wednesday, July 15, 2020, 12:00 am
Thursday, July 16, 2020, 12:00 am
Friday, July 17, 2020, 12:00 am
Saturday, July 18, 2020, 12:00 am

Map
Immaculate Conception Catholic Church
208 S. Hope St., Jackson, MO