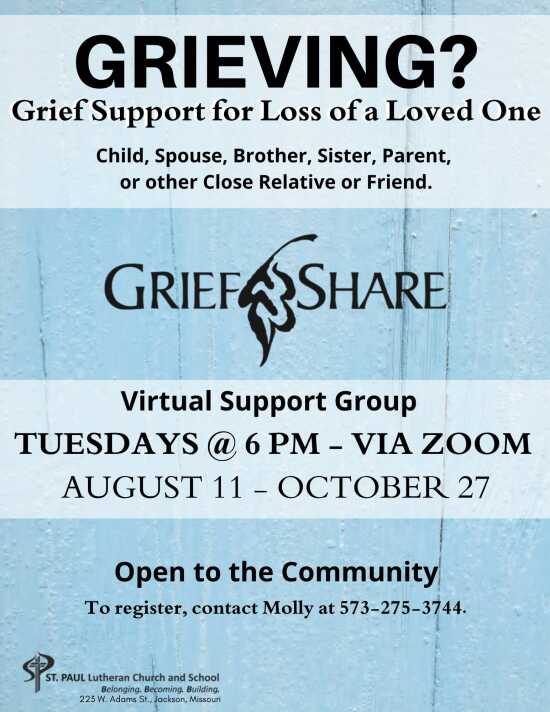 Past:

VIRTUAL GriefShare Sessions
St. Paul Lutheran Church
The St. Paul Lutheran GriefShare Team is scheduling a virtual series via Zoom, beginning Tuesday, August 11, at 6:00 pm. The group is open to anyone who has lost a family member recently or in the past several years. If you have attended in person previously, you are welcome to join us from the comfort of your home. Sessions are open to the public. A fee of $15, or a donation, covers the cost of a participant's guide. If you have a guide, you are ready!
TO REGISTER FOR THESE SESSIONS, go online to https://www.griefshare.org/.  On that page, type in 63755 in the zip code search. Click "Find a Group". Choose the St. Paul Lutheran Church listing. Click "Register for this group". Our local leaders will send you an email to help you set up ZOOM on your computer or phone. (Easier on the computer.)
A friend, relative, or neighbor might be able to help you get it set up, as well. Once registered and our sessions begin, you will be able to access the videos online. Our Tuesday evening sessions will use the participant's guide, follow up on video, and group discussion. Many other communities are using this option to offer support. Pray for this outreach as we offer comfort, support, and strength from our Heavenly Father to those walking in grief.
For more information on grief support, call Molly at 573-275-3744.
Past Dates & Times
Tuesday, August 11, 2020, 6:00 pm - 8:00 pm
Tuesday, August 18, 2020, 6:00 pm - 8:00 pm
Tuesday, August 25, 2020, 6:00 pm - 8:00 pm
Tuesday, September 1, 2020, 6:00 pm - 8:00 pm
Tuesday, September 8, 2020, 6:00 pm - 8:00 pm
Tuesday, September 15, 2020, 6:00 pm - 8:00 pm
Tuesday, September 22, 2020, 6:00 pm - 8:00 pm
Tuesday, September 29, 2020, 6:00 pm - 8:00 pm
Tuesday, October 6, 2020, 6:00 pm - 8:00 pm
Tuesday, October 13, 2020, 6:00 pm - 8:00 pm
Tuesday, October 20, 2020, 6:00 pm - 8:00 pm
Tuesday, October 27, 2020, 6:00 pm - 8:00 pm

Map
St. Paul Lutheran Church
223 W. Adams St., Jackson, MO