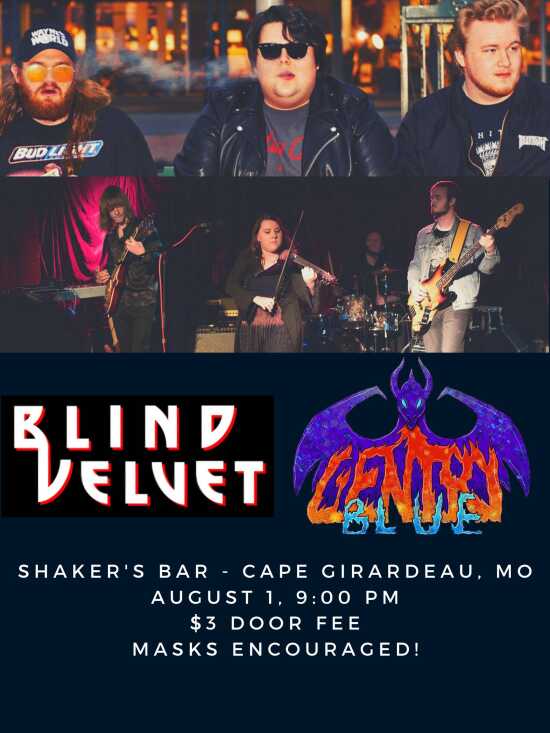 Past:

Gentry Blue and Blind Velvet at Shaker's Bar
Shaker's Bar
$3 door fee and 21+, begins at 9:00 PM at Shaker's Bar in Downtown Cape Girardeau.
MASKS REQUIRED IN CAPE COUNTY, PLEASE WEAR YOURS!! Let's come to have a safe time!
The world needs some good old fashioned rock n' roll, that's for sure. Come in for a great time with Gentry Blue (psychedelic hard rock from Nashville, TN) celebrating the release of their latest single "What Lies on the Other Side" alongside Blind Velvet (blues-rock from Sikeston, MO).
About:
"Blind Velvet is a hard rock band based in Sikeston, Missouri. Made up of long time friends Alan (vocalist/guitarist), Evan (drummer), and Matt (bassist), Blind Velvet brings new rock with a classic sound. Having released their first self titled EP in 2018, the boys are in studio working on the next album."
"Few bands advertise themselves as a group which takes no prisoners, but thatís exactly what Gentry Blue does-- creating a passionate, raw sound involving hard rock meeting pure classic inspired psychedelic rock. Comprised of four misfits from all over the country who met in Nashville, Tennessee, Gentry Blue stays true to their roots as they seek to reflect the rock and roll aesthetics of this constantly changing world, with a touch of violin."
Past Dates & Times
Saturday, August 1, 2020, 9:00 pm

Map
Shaker's Bar
2 Main St, Cape Girardeau, MO