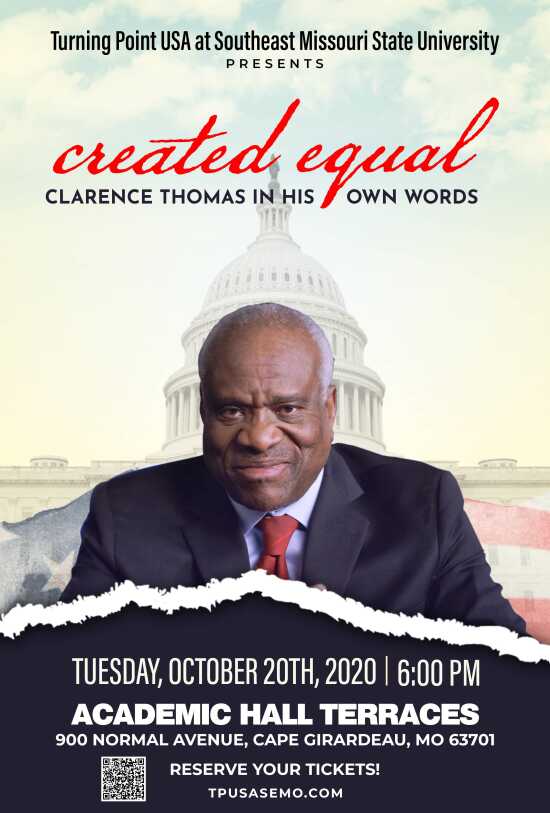 Past:

Outdoor Screening of 'Created Equal: Clarence Thomas In His Own Words'
Academic Hall Terraces
Free Tickets Available At:
Turning Point USA at Southeast Missouri State University will be hosting a free outdoor screening of 'Created Equal: Clarence Thomas In His Own Words' on the Academic Hall Terraces. This event is open to the public and one night only.
In the event of incliment weather, the screening will occur at an alternative indoor venue.
Please reserve your tickets and find updates about the event at tpusasemo.com
**A $30 Amazon.com Gift Card will be raffled right before the start of the film. Enter to win by reserving your free ticket. Recipient must be present to win.*
Although Clarence Thomas remains a controversial figure, loved by some, reviled by others, few know much more than a few headlines and the recollections of his
contentious confirmation battle with Anita Hill. With unprecedented access, the producers interviewed Justice Clarence Thomas and his wife, Virginia, for over
30 hours. Justice Thomas tells his story, looking directly at the camera, speaking frankly to the audience. The documentary combines Justice Thomas' first-person account with a rich array of historical archive material, personal photos, and evocative recreations.
Past Dates & Times
Tuesday, October 20, 2020, 6:00 pm

Map
Academic Hall Terraces
900 Normal Avenue, Cape Girardeau, MO 63701