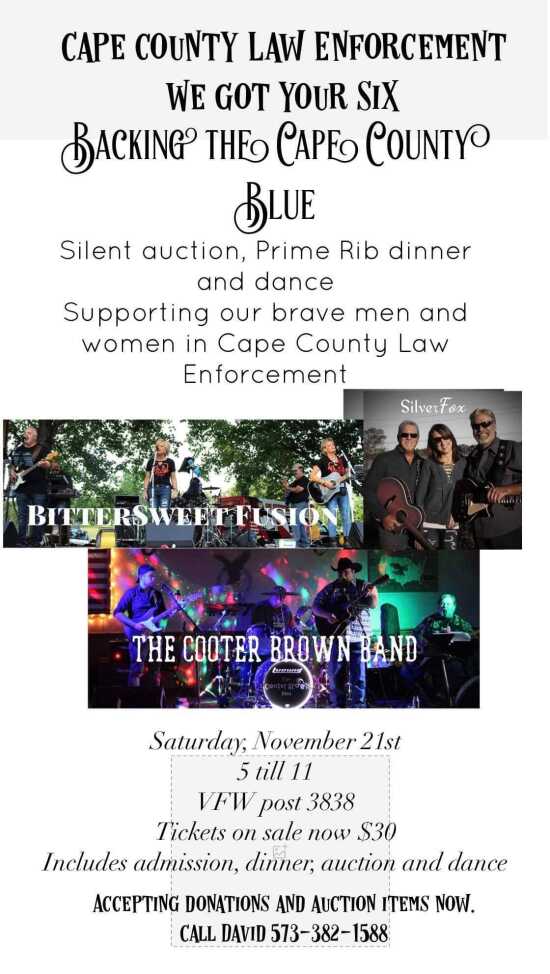 Past:

Hey Blue, We've Got Your Six
VFW Post 3838
Clippard-Wilson-Taylor VFW Post 3838
Honoring the Men and Women of Blue
Backing the Cape County Blue
Same Flag.
Same Oath.
Same Thin Line.
HEY BLUE, WE'VE GOT YOUR SIX
November 21, 2020
5:00 p.m. - 11:00 p.m.
Live music all night & Silent auction
Admission tickets $30 (Free for Law Enforcement) includes meal tickets (limited to the first 200)
Advance tickets on sale now at VFW 3838 (limited to first 400)
All proceeds split between Cape Girardeau Police Department, Cape Girardeau County Sheriff's Office and Jackson Police Department.
Past Dates & Times
Saturday, November 21, 2020, 5:00 pm - 11:00 pm

Map
VFW Post 3838
1049 N Kingshighway St, Cape Girardeau