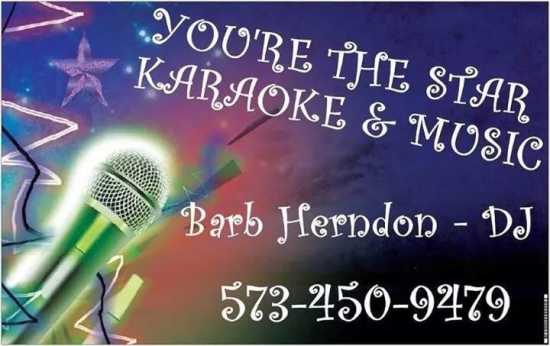 Karaoke & Dancing on the Patio
Friday, Jun 2, 2017, 6:30 pm - 10:00 pm
Muy Bueno Mexican Restaurant
Muy Bueno Mexican Restaurant 1751 Independence Cape Girardeau
Come out and join in the fun!! Bring your singin' voice/dancin' shoes, your appetite and a bunch of your friends! Cold beverages and the best guacamole and homemade chips around!
Up to date selection of karaoke music from the 50's to today's hits!
The music starts at 6:30pm and we're gonna party til 10pm
We'll be here every Friday & Saturday night...sooo, let's make it a regular date!
LIMITED SEATING...CALL AHEAD TO RESERVE YOUR PATIO SEATS FOR A LARGE GROUP
Dates & Times
Friday, Jun 2, 2017, 6:30 pm - 10:00 pm
Saturday, Jun 3, 2017, 6:30 pm - 10:00 pm
Friday, Jun 9, 2017, 6:30 pm - 10:00 pm
Saturday, Jun 10, 2017, 6:30 pm - 10:00 pm
Friday, Jun 16, 2017, 6:30 pm - 10:00 pm
Saturday, Jun 17, 2017, 6:30 pm - 10:00 pm
Friday, Jun 23, 2017, 6:30 pm - 10:00 pm
Saturday, Jun 24, 2017, 6:30 pm - 10:00 pm
Friday, Jun 30, 2017, 6:30 pm - 10:00 pm
Saturday, Jul 1, 2017, 6:30 pm - 10:00 pm
Friday, Jul 7, 2017, 6:30 pm - 10:00 pm
Saturday, Jul 8, 2017, 6:30 pm - 10:00 pm
Friday, Jul 14, 2017, 6:30 pm - 10:00 pm
Saturday, Jul 15, 2017, 6:30 pm - 10:00 pm
Friday, Jul 21, 2017, 6:30 pm - 10:00 pm
Saturday, Jul 22, 2017, 6:30 pm - 10:00 pm
Friday, Jul 28, 2017, 6:30 pm - 10:00 pm
Saturday, Jul 29, 2017, 6:30 pm - 10:00 pm
Friday, Aug 4, 2017, 6:30 pm - 10:00 pm
Saturday, Aug 5, 2017, 6:30 pm - 10:00 pm
Friday, Aug 11, 2017, 6:30 pm - 10:00 pm
Saturday, Aug 12, 2017, 6:30 pm - 10:00 pm
Friday, Aug 18, 2017, 6:30 pm - 10:00 pm
Saturday, Aug 19, 2017, 6:30 pm - 10:00 pm
Friday, Aug 25, 2017, 6:30 pm - 10:00 pm
Saturday, Aug 26, 2017, 6:30 pm - 10:00 pm
Friday, Sep 1, 2017, 6:30 pm - 10:00 pm
Saturday, Sep 2, 2017, 6:30 pm - 10:00 pm
Friday, Sep 8, 2017, 6:30 pm - 10:00 pm
Saturday, Sep 9, 2017, 6:30 pm - 10:00 pm
Friday, Sep 15, 2017, 6:30 pm - 10:00 pm
Saturday, Sep 16, 2017, 6:30 pm - 10:00 pm
Friday, Sep 22, 2017, 6:30 pm - 10:00 pm
Saturday, Sep 23, 2017, 6:30 pm - 10:00 pm
Friday, Sep 29, 2017, 6:30 pm - 10:00 pm
Saturday, Sep 30, 2017, 6:30 pm - 10:00 pm
Friday, Oct 6, 2017, 6:30 pm - 10:00 pm
Saturday, Oct 7, 2017, 6:30 pm - 10:00 pm
Friday, Oct 13, 2017, 6:30 pm - 10:00 pm
Saturday, Oct 14, 2017, 6:30 pm - 10:00 pm

Map
Muy Bueno Mexican Restaurant
1751 Independence., Cape Girardeau, MO