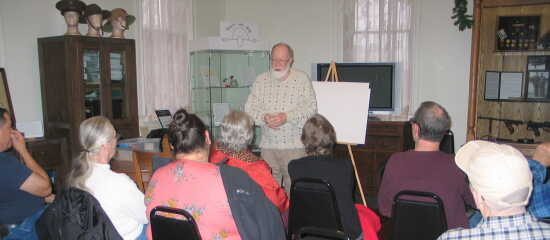 Past:

The Battle of the Bulge / Richard Lipsinsky
Bollinger County Museum of Natural History
Please join us on Saturday, December 12, at 1:00 p.m. E. Richard Lipsinsky, amateur historian and veteran of the U.S. Air Force and U.S. Coast Guard Auxiliary, will present a talk about the WWII Battle of the Bulge at the Bollinger County Museum of Natural History in Marble Hill, MO.
December 16th marks the 76th Anniversary of the start of the battle. How decisions were made before and during the battle as well as events that shaped its final outcome will be explained.
Face coverings will be required with limited seating to allow for physical distance seating arrangements. You may contact the museum at 573-238-1174, email bcmnh@sbcglobal.net, or visit our website https://www.bcmnh.org/support-us/ to register and save your seat for this event. Seats will fill up fast and those who register will be given preference for seating. People who do not register will be seated as space allows.
The Bollinger County Museum of Natural History is located at 209 Mayfield Drive in Marble Hill.
Regular admission to the museum will apply.
Museum admission: Adults $5 each and 17 years and under $2 each
Museum open hours: 12:00 pm – 4:00 pm
Special presentation by Richard Lipsinsky: 1:00 pm
In case of inclement weather or hazardous road conditions please call ahead to verify museum is open and event is taking place.
For more information call 573-238-1174 or email bcmnh@sbcglobal.net
Past Dates & Times
Saturday, December 12, 2020, 1:00 pm

Map
Bollinger County Museum of Natural History
209 Mayfield Dr., Marble Hill, MO