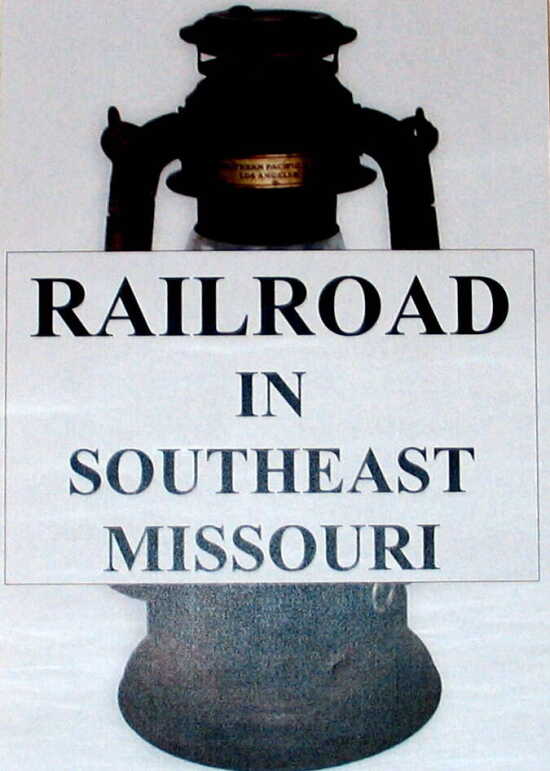 Railroads in Southeast Missouri
Thursday, September 23, 2021, Noon - 4:30 pm
Bollinger County Museum of Natural History
Railroads carried people and products across our nation. Our new railroad exhibit features the history of railroads through; photos,memorabilia, and a model train set.
Museum hours: Noon - 4:30 p.m.
Admission: Adults $5 and 17 years and under $2
The museum closes for inclement weather or hazardous road conditions.
In case of inclement weather please call ahead to verify museum is open.
Phone: 573-238-1174
Email: bcmnh@sbcglobal.net
Dates & Times
Thursday, September 23, 2021, Noon - 4:30 pm
Friday, September 24, 2021, Noon - 4:30 pm
Saturday, September 25, 2021, Noon - 4:30 pm
Thursday, September 30, 2021, Noon - 4:30 pm
Friday, October 1, 2021, Noon - 4:30 pm
Saturday, October 2, 2021, Noon - 4:30 pm
Sunday, October 3, 2021, Noon - 4:30 pm
Thursday, October 7, 2021, Noon - 4:30 pm
Friday, October 8, 2021, Noon - 4:30 pm
Saturday, October 9, 2021, Noon - 4:30 pm
Thursday, October 14, 2021, Noon - 4:30 pm
Friday, October 15, 2021, Noon - 4:30 pm
Saturday, October 16, 2021, Noon - 4:30 pm
Thursday, October 21, 2021, Noon - 4:30 pm
Friday, October 22, 2021, Noon - 4:30 pm
Saturday, October 23, 2021, Noon - 4:30 pm
Thursday, October 28, 2021, Noon - 4:30 pm
Friday, October 29, 2021, Noon - 4:30 pm
Saturday, October 30, 2021, Noon - 4:30 pm
Thursday, November 4, 2021, Noon - 4:30 pm
Friday, November 5, 2021, Noon - 4:30 pm
Saturday, November 6, 2021, Noon - 4:30 pm
Sunday, November 7, 2021, Noon - 4:30 pm
Thursday, November 11, 2021, Noon - 4:30 pm
Friday, November 12, 2021, Noon - 4:30 pm
Saturday, November 13, 2021, Noon - 4:30 pm
Thursday, November 18, 2021, Noon - 4:30 pm
Friday, November 19, 2021, Noon - 4:30 pm
Saturday, November 20, 2021, Noon - 4:30 pm
Friday, November 26, 2021, Noon - 4:30 pm
Saturday, November 27, 2021, Noon - 4:30 pm
Thursday, December 2, 2021, Noon - 4:30 pm
Friday, December 3, 2021, Noon - 4:30 pm
Saturday, December 4, 2021, Noon - 4:30 pm
Sunday, December 5, 2021, Noon - 4:30 pm
Thursday, December 9, 2021, Noon - 4:30 pm
Friday, December 10, 2021, Noon - 4:30 pm
Saturday, December 11, 2021, Noon - 4:30 pm
Thursday, December 16, 2021, Noon - 4:30 pm
Friday, December 17, 2021, Noon - 4:30 pm
Saturday, December 18, 2021, Noon - 4:30 pm
Thursday, December 23, 2021, Noon - 4:30 pm
Thursday, December 30, 2021, Noon - 4:30 pm

Map
Bollinger County Museum of Natural History
209 Mayfield Dr., Marble Hill, MO