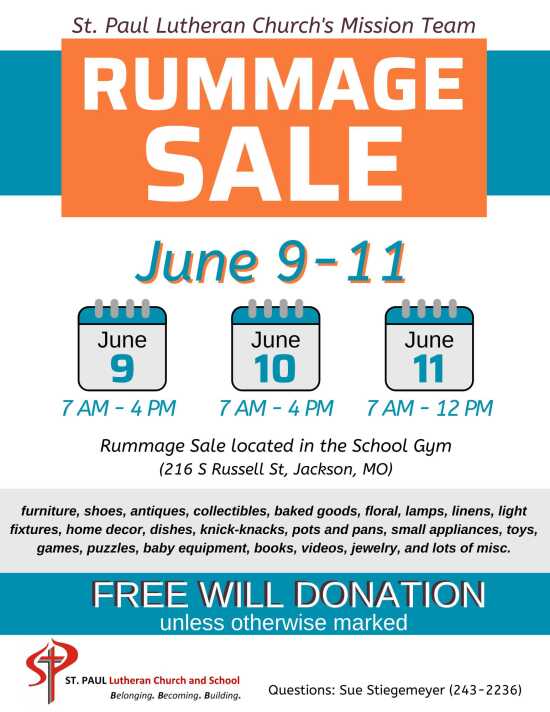 Past:

Rummage Sale - St. Paul Lutheran Church & School
St. Paul Lutheran School
St. Paul Lutheran Mission Team (Jackson) is hosting a Rummage Sale!!
- Thursday, June 9 (7 am- 4 pm)
- Friday, June 10 (7 am-4 pm)
- Saturday, June 11 (7 am-noon)
Location: St. Paul Gym (216 S Russell St)
Free-will donation unless otherwise marked.
Items for sale include furniture, antiques, collectibles, floral, lamps, linens, light fixtures, home decor, dishes, knick-knacks, pots and pans, small appliances, toys, games, puzzles, baby equipment, books, videos, jewelry, lots of misc., and more. Please come to support the St. Paul Mission Team!
Past Dates & Times
Thursday, June 9, 2022, 7:00 am - 4:00 pm
Friday, June 10, 2022, 7:00 am - 4:00 pm
Saturday, June 11, 2022, 7:00 am - noon

Map
St. Paul Lutheran School
216 S Russell St, Jackson, MO