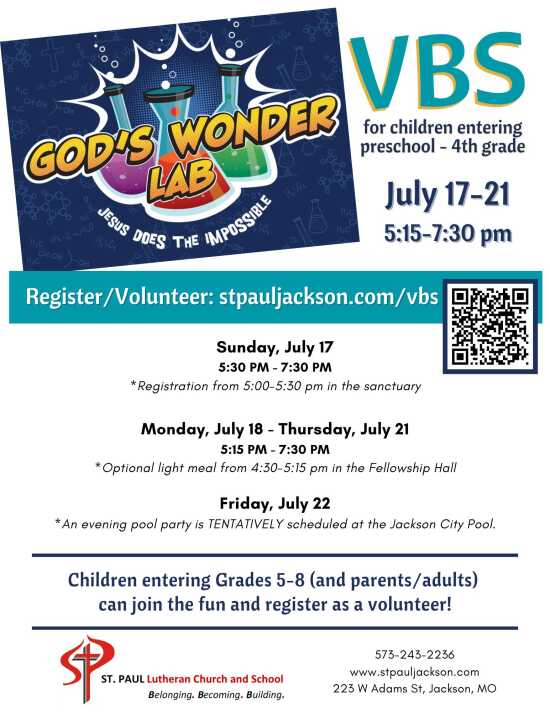 Past:

St. Paul Lutheran Vacation Bible School
St. Paul Lutheran Church
Students who will be entering Preschool– Grade 4 are invited to participate in VBS on July 17th – 21st. The theme this year is "God's Wonder Lab—Jesus Does the Impossible".
On Sunday, July 17, registration will be in the narthex beginning at 5:00 PM with the opening in the Sanctuary at 5:30 PM.
Then for Monday through Thursday, we will have a light meal (optional) beginning at 4:30 PM in the Fellowship Hall. Our opening will be at 5:15 PM, Monday through Thursday, in the sanctuary.
We will conclude each evening at 7:30 PM in the sanctuary. We have tentative plans to host a pool party on Friday, July 22nd at the Jackson Pool and we will update you as the time gets closer.
To learn more and to sign up your child, visit stpauljackson.com/vbs.
Past Dates & Times
Sunday, July 17, 2022, 5:00 pm - 7:30 pm
Monday, July 18, 2022, 5:00 pm - 7:30 pm
Tuesday, July 19, 2022, 5:00 pm - 7:30 pm
Wednesday, July 20, 2022, 5:00 pm - 7:30 pm
Thursday, July 21, 2022, 5:00 pm - 7:30 pm

Map
St. Paul Lutheran Church
223 W. Adams St., Jackson, MO