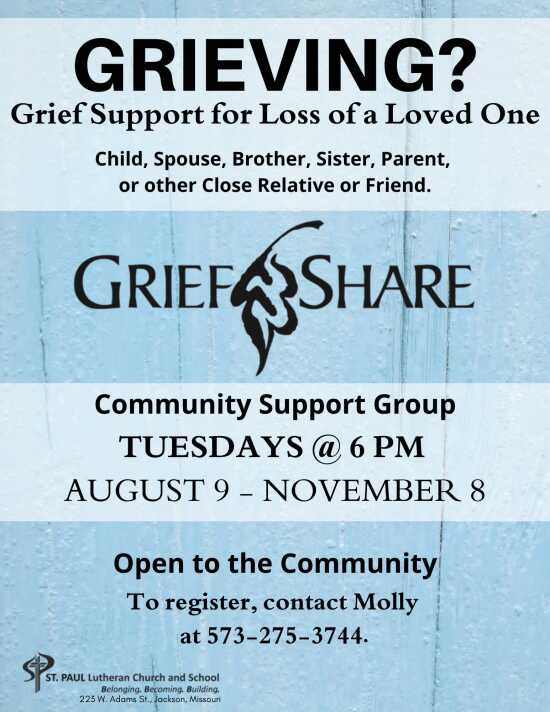 Past:

GriefShare Session - St. Paul (Jackson)
St. Paul Lutheran Church
GriefShare Series, St. Paul Lutheran Church
starts TUESDAY, August 9 - 6:00 PM (14-week session)
(enter through the back parking lot)
All who have lost a loved one recently or in the past few years are welcome. If you have attended the series before, you are welcome to attend again. The group is open to the community. You will be provided with a Participant's Guide for the Sessions (thanks to Thrivent funding). You are welcome to bring a friend or family member for support.
Walking through grief with others lightens our burden.
Walking with God offers us comfort, hope, and strength for the journey.
For more information, contact Molly at 573-275-3744.
Past Dates & Times
Tuesday, August 9, 2022, 6:00 pm - 8:00 pm
Tuesday, August 16, 2022, 6:00 pm - 8:00 pm
Tuesday, August 23, 2022, 6:00 pm - 8:00 pm
Tuesday, August 30, 2022, 6:00 pm - 8:00 pm
Tuesday, September 6, 2022, 6:00 pm - 8:00 pm
Tuesday, September 13, 2022, 6:00 pm - 8:00 pm
Tuesday, September 20, 2022, 6:00 pm - 8:00 pm
Tuesday, September 27, 2022, 6:00 pm - 8:00 pm
Tuesday, October 4, 2022, 6:00 pm - 8:00 pm
Tuesday, October 11, 2022, 6:00 pm - 8:00 pm
Tuesday, October 18, 2022, 6:00 pm - 8:00 pm
Tuesday, October 25, 2022, 6:00 pm - 8:00 pm
Tuesday, November 1, 2022, 6:00 pm - 8:00 pm

Map
St. Paul Lutheran Church
223 W. Adams St., Jackson, MO