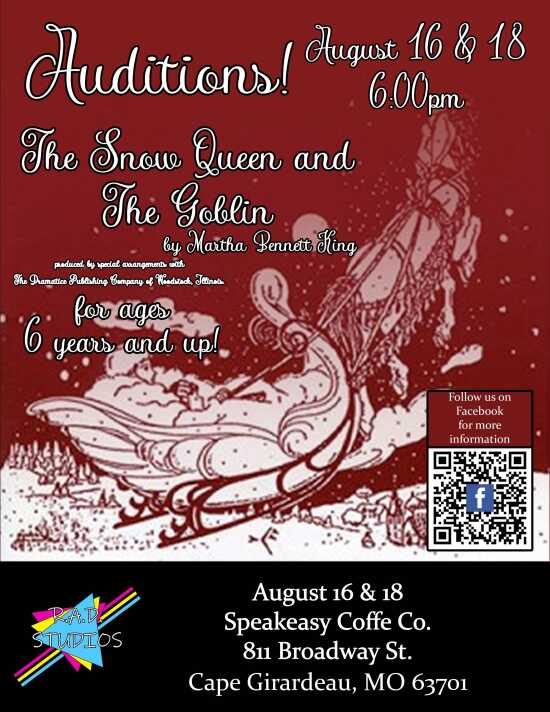 AUDITION ANNOUNCEMENT: "The Snow Queen and the Goblin" by Martha Bennett King
Thursday, August 18, 2022, 6:00 pm - 7:30 pm
Speakeasy Coffee Co.
*****AUDITION ANNOUNCEMENT*****
We will holding auditions for "The Snow Queen and the Goblin" by Martha Bennett King.
Auditions will be in a group setting so everyone must arrive at 6:00pm. We will hold the auditions at Speakeasy Coffee Co. (811 Broadway St.) in Cape Girardeau, MO. Open to all children ages 6 and up to cast in any role.
Audition packets available early upon request. Message us for more details.
"The Snow Queen and the Goblin" by Martha Bennett King
"Can anyone steal happiness? Living in an ice palace of dazzling beauty, the queen watches two earth children, Kay and Gerda, who live in a cozy attic home with their loving grandmother. She orders her goblin, Acha, to steal Kay, whose laughter, songs and games will enliven her frozen home and bring happiness. A jealous Acha uses his magic mirror to lure Kay and put him under a spell. Gerda is terrified but starts in search of Kay. Her only weapons against danger and cold are faith and her grandmother's song..."
This show is produced by special arrangements with THE DRAMATIC PUBLISHING COMPANY of Woodstock, Illinois.
Map
Speakeasy Coffee Co.
811 Broadway St., Cape Girardeau, MO 63701