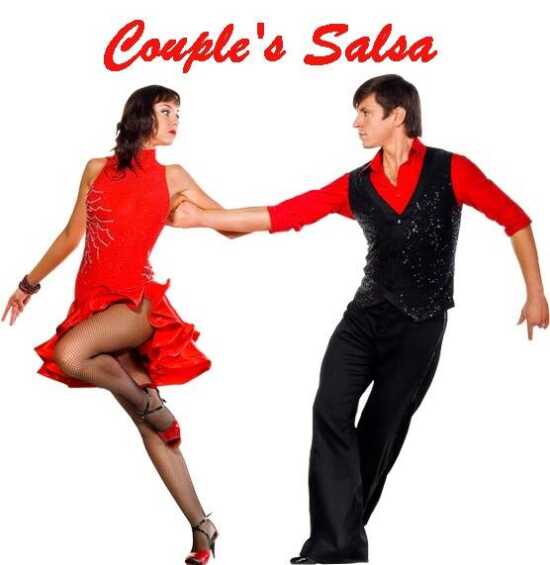 Past:

Dance with Latin Salsa Lesson.
Cape Ballroom at the American Legion
Learn the sizzling Salsa this Friday, July 22nd, from 7:00 p.m. to 9:00 p.m. at Cape Ballroom!
The evening begins at 7:00 p.m. sharp, with a 30-minute lesson in the Latin Salsa.
Salsa is an amalgamation of Cuban dances such mambo and rumba as well as American dances such as swing. It is danced on six beats out of every eight. This means that on the fourth and eighth beats, no step is taken, which gives the dance a staccato like form. No one quite knows why it was named "salsa." Some suggest the name comes from the food since it has elements from many cultures much like salsa has many ingredients. Others say it's because the dance's movements are hot and spicy, like salsa and chips.
The lesson will be followed by dancing to mixed ballroom music, until 9:00pm. Electric Slide and Cupid Shuffle line dances included.
Just $5/person at the door.
Dance Partners Required! Participants must arrange their own dance partner for the lesson and dance.
No smoking. No alcohol. Water is available. Bring your own snacks and non-alcoholic drinks.
Cape Ballroom Friday Night Dances are held 7-9 p.m. at the American Legion Hall, 2731 Thomas Drive, Cape Girardeau, MO 63701.
Questions? Facebook message, text/call (480) 857-7286, or email dan@capeballroom.com.
Past Dates & Times
Friday, July 22, 2022, 7:00 pm - 9:00 pm

Map
Cape Ballroom at the American Legion
2731 Thomas Drive, Cape Girardeau, MO